2020-October-28 17:53
Society_Culture
2020-September-30  17:37
Spokeswoman Declares Iran's Investment in COVAX
TEHRAN (FNA)- Iranian Health Ministry Spokeswoman Sima Sadat Lari announced the country's investment in COVID-19 Vaccine Global Access Facility (COVAX Facility).
"The most creditable source to supply and purchase coronavirus vaccine is COVAX and Iran has invested in it," Lari told reporters in the Northern city of Sari on Wednesday.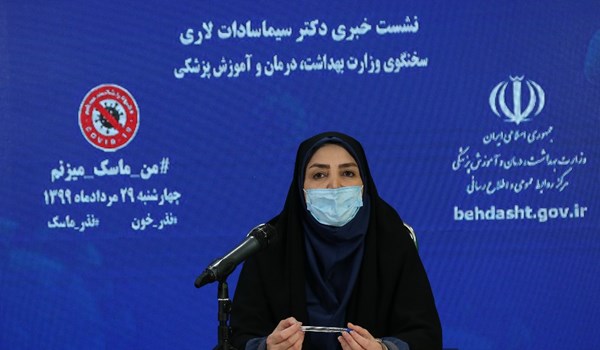 Iranian Health Ministry Spokeswoman Sima Sadat Lari
She added that the Iranian health ministry is after transferring the know-how to produce coronavirus drugs and vaccine in the country.
In relevant remarks earlier this month, Iranian Health Minister Saeed Namaki said that the country's experts are through with animal tests of coronavirus vaccine and are ready to enter the human trial phase.
"Although, we have volunteered to purchase the first confirmed COVID-19 virus vaccine in the world, fortunately, different complexes and several knowledge-based companies have been activated in the country in this field and we have passed the vaccine tests on animals and are ready to enter the human trial phase," Namaki said.
The Iranian health ministry announced on Wednesday that 3,582 new cases of coronavirus infection have been identified across the country during the past 24 hours, adding that 183 patients have lost their lives in the same period.
"3,582 new patients infected with COVID-19 have been identified in the country based on confirmed diagnosis criteria during the past 24 hours," Lari said on Wednesday, and added, "1,567 patients have been hospitalized during the same time span."
She added that the total number of COVID-19 patients has increased to 457,219.
"Unfortunately, 183 patients have passed away in the past 24 hours, increasing the number of the dead to 26,169," the spokeswoman noted.
Lari expressed satisfaction that 380,956 coronavirus patients have recovered or been discharged from hospitals so far.
The spokeswoman further said that 4,093 cases infected with COVID-19 are in critical conditions.
Lari said that 30 provinces are still in red condition or the status of alert.