2020-November-25 11:04
Politics
2020-October-3  11:57
Iranian, Syrian Envoys in Russia Urge Promotion of Ties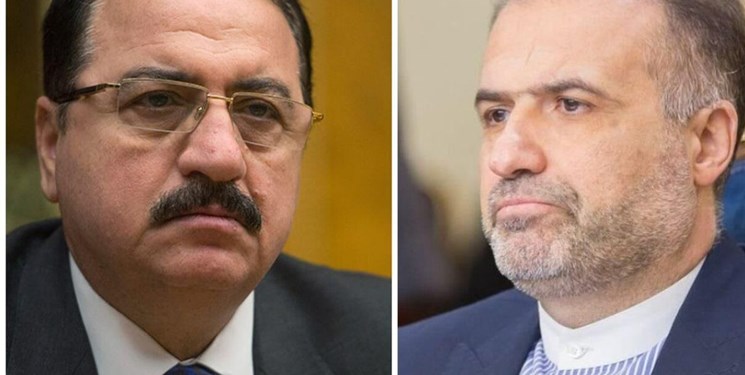 TEHRAN (FNA)- Iranian and Syrian ambassadors to Russia underlined bolstering of mutual cooperation in various fields, and denounced compromise deal of some Arab regimes with Israel.
Iranian ambassador Kazzem Jalali and his Syrian counterpart Riyad Haddad discussed developments in Syria, Western sanctions against the country and the grounds for further bilateral cooperation between Tehran and Damascus.
Jalali reaffirmed Iran's all-out support for Syria in all fields and censured normalization of ties with Israel by some Arab Sheikhdoms.
Haddad also condemned the normalization of relations between some Arab countries and Israel, calling it a great betrayal to the Islamic Ummah.
In a relevant event in mid-August, Iranian Deputy Defense Minister Ebrahim Mahmoudzadeh and Syrian Prime Minister Hussein Arnous stressed strengthening cooperation in all fields of infrastructure and economy, and highlighted Iran's experience in speedy reconstruction of the war-ravaged country.
Mahmoudzadeh and Arnous emphasized promotion of Iran-Syria cooperation in the areas of infrastructure in addition to benefiting from Iran's experiences in rapid construction of residential areas and water desalination plants, electricity, water resources, oil, technical education, rehabilitation and training.
Both sides called for removal of all obstacles on the way of implementing the signed agreements and bilateral memoranda of understanding (MoUs).
The Iranian official focused on increasing coordination and joint cooperation in the investment field and activating the private sector in the two countries to carry out joint projects.
The Syrian Premier, for his part, underlined continuation of economic relations between the two friendly countries in the strategic and political fields.