2020-November-25 12:25
Politics
2020-October-4  13:22
Iran, Iraq Vow Broadening of Bilateral Ties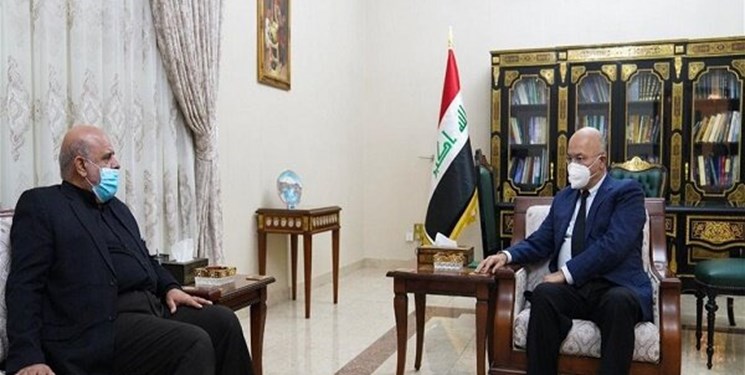 TEHRAN (FNA)- Iran's Ambassador to Iraq Iraj Masjedi and Iraqi President Barham Salih in a meeting in Baghdad underlined the need to expand mutual cooperation.
During the meeting in the Iraqi capital on Saturday night, Masjed and President Salih discussed the latest developments in Iraq, the prospects of bilateral relations between Tehran and Baghdad and the significance of adherence to negotiations and reinforcing regional peace and security, as well as the importance of reducing tensions in the region.
They also stressed the need to support the measures of the Baghdad government in order to protect diplomatic places and centers.
Iranian ambassador reaffirmed Iran's support for stability in Iraq and strengthening economic and social ties between the two neighboring countries.
In relevant remarks in late July, Masjedi said Tehran is ready to expand security and military cooperation with Baghdad.
Masjedi made the remarks in a meeting with newly-appointed Iraqi National Security Advisor Qasim al-Araji late on July 27, and emphasized the two neighboring countries' commonalities.
Al-Araji, for his part, appreciated Iran's assistance to Iraq in fighting ISIL terrorists and voiced pleasure over Iran's recent welcome to Iraqi high-ranking delegation headed by Prime Minister Mustafa al-Kadhimi.
He said more cooperation between the two countries will benefit both sides.