2020-October-20 09:37
Society_Culture
2020-October-6  12:43
Iranian Researchers Develop Non-Invasive Ventilator for Coronavirus Patients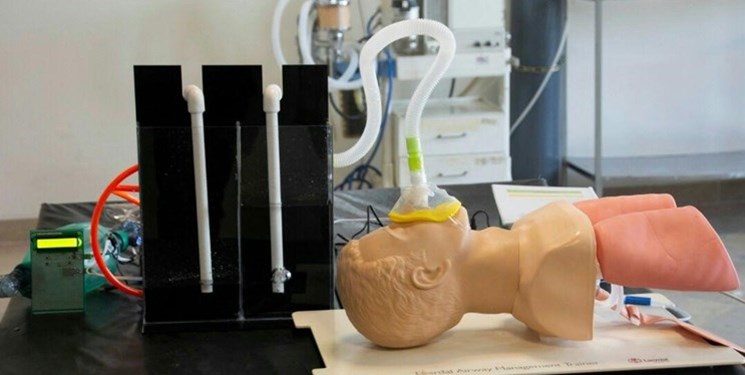 TEHRAN (FNA)- Iranian scientists at the Growth Center of Mohaqeq Ardabili University succeeded in patenting a non-invasive two-pressure ventilation system based on hydrostatic water pressure for emergency situations of coronavirus patients.
"The designed device is a sample of two-pressure ventilation system, or BiPAP. The system is an innovative design that uses hydrostatic water pressure to regulate pressure in order to be used in critical situations such as respiratory disease outbreaks and it reduces complexity and costs," Hossein Vaseqi Dodaran, the executor of the plan, told FNA on Tuesday.
"Adjustable high and low pressure levels, adjustable inhalation and exhalation time, PEEP pressure supply, ease of use and no need for external technologies are the advantages of this device," he added.
"The nature of this device is non-invasive treatment and can replace a hospital ventilator in mild cases of the disease," Vaseqi Dodaran said.
In a relevant development in April, Iranian researchers at Tehran University designed and produced a special ventilator system for coronavirus patients which can be easily manufactured by specialists across the world.
The system was redesigned and manufactured by the University of Tehran researchers, including Hadi Moradi and Seyed Kamaleddin Setarehdan, in cooperation with Morteza Behzad Nasab from Iran Polymer and Petrochemical Institute as well as a team from MIT University supervised by professor Slocum.
The easy production of the ventilator system is among its advantages. Also, its design has been provided to everyone in the world as open source so that any specialist can develop and prepare it for local use.
Also, in May, an official with the Iranian Vice-Presidency for Science and Technology said that the country is manufacturing 30 ventilators per day to help cure coronavirus-infected patients.
"While the US and some European countries are moaning of shortage of ventilators, Iranian researchers and knowledge-based companies have managed to manufacture at least 30 ventilators per day according to the latest technological standards in the world," Esmayeel Qaderifar said.
He added that this device has been put at the service of the patients infected with coronavirus.
Qaderifar also said that Iran has reached to the point of self-sufficiency with regard to the production of various kinds of tools and equipment needed for the fight against the deadly COVID-19 disease.