Politics
2020-October-7  12:47
Azerbaijan, Armenia Apologize for Misfire at Iran, Promise Not to Repeat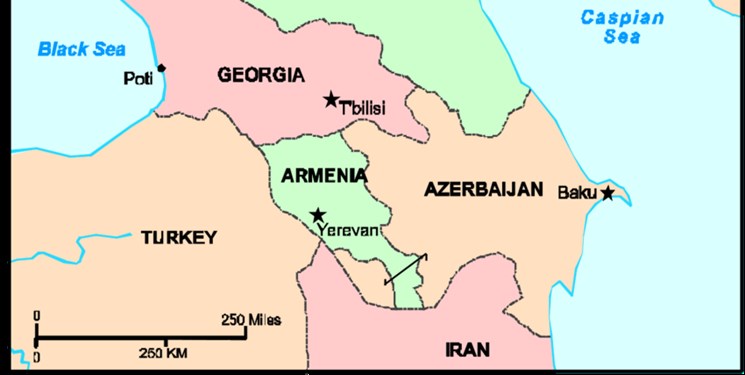 TEHRAN (FNA)- Deputy Commander of Iran's Law Enforcement Police Brigadier General Qassem Rezayee said that the two warring states of Azerbaijan and Armenia have apologized for the unintentional firing at Iranian bordering areas and promised to avoid any misfire in future.
"Azerbaijan and Armenia have been in conflict over Nagorno-Karabakh region for over 28 years and a number of the two countries' citizens have been killed and this issue has made us sad," General Rezayee told FNA on Tuesday night.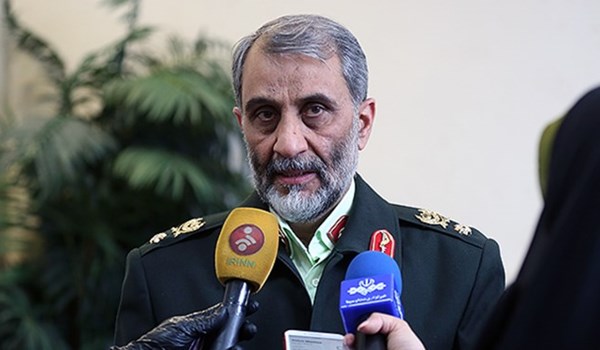 Deputy Commander of Iran's Law Enforcement Police Brigadier General Qassem Rezayee
He added that during the two countries' exchange of fire, the Iranian bordering areas have come under misfire, noting that the border guards of Iran have warned them against repetition of such an incident.
General Rezayee said that Azerbaijan and Armenia have apologized for the unintentional fire at Iranian territories, and added, "They have promised not to repeat such incidents."
Iranian Government Spokesman Ali Rabiyee said on Tuesday that his country emphasizes evacuation of Azerbaijan's territories occupied by Armenia, and further warned both warring states to avoid misfire at Iranian borders in their ongoing clashes.
"We emphasize protection of Azerbaijan's territorial integrity as well as evacuation of Azerbaijan's occupied lands. We believe interference of third parties is harmful. We do not consider the military option as a solution in the region and we are concerned about harms to our citizens at the bordering areas and we will deal with any such case. We want peace in the region," Rabiyee told reporters.
He also warned that Iran does not tolerate clashes and aggression against its lands even undeliberate actions, and added, "Iran is one of the few actors which enjoys good ties with Azerbaijan and Armenia and wants the war to end as soon as possible."
In relevant remarks on Monday, Iranian Foreign Ministry Spokesman Saeed Khatibzadeh had also warned Azerbaijan and Armenia against violating Iranian borders, describing it as Tehran's redline.
"Both warring sides should take heed that the Islamic Republic cannot tolerate clashes on its borders and aggression on its soil," Khatibzadeh said, noting that Baku and Yerevan should observe Iran's redline.   
"Since the start of the conflict, Iran has told both parties that there will be no military solution for the decades-long dispute," Khatibzadeh said on Monday, and added, "We emphasize that military conflict should stop quickly to start comprehensive political dialogue."
He further said Iran has prepared a plan after consultations with both warring sides to end the Armenia-Azerbaijan war.
Khatibzadeh had issued a similar warning to Azerbaijan and Armenia on Saturday to avoid misfire during military clashes between the two neighbors.
"The Islamic Republic of Iran is seriously and with high sensitivity monitoring the moves at the bordering areas of Iran and declares that any aggression against our country's territories by any party engaged in the (conflicts in the) region will not be tolerated and we seriously warn all sides to show necessary caring in this regard," he said.
He reiterated the need for respecting Azerbaijan's territorial integrity, watching for civilians' lives, stopping clashes and starting serious and timed talks, adding that Iran is ready to help achievement of the aforesaid goals.
Also, a senior official in Iran's East Azarbaijan province that borders with Armenia and Azerbaijan Republic said his country has given warnings to the two conflicting states about the consequences of mortar shells hitting Iranian villages.
Deputy Governor-General of East Azarbaijan province, Aliyar Rastgoo, said that the governor-general himself has also sent a letter to Iran's Foreign Ministry to pursue the issue through diplomatic ways.
He added that Iran is closely minoring the situation on the borders.
Battles between Armenian and Azerbaijan forces over the disputed region of Nagorno-Karabakh still continue.
Iran has time and again invited the neighboring countries of Azerbaijan Republic and Armenia to avoid tensions and adhere to self-restraint to resolve Nagorno-Karabakh conflict, stressing the need for regional peace.
Iranian Foreign Minister Mohammad Javad Zarif called on his Azeri and Armenian counterparts to refrain from military ways as tensions have risen between the two countries over Nagorno-Karabakh region.
During phone conversations with Armenian Foreign Minister Zohrab Mnatsakanyan and Azeri Foreign Minister Jeyhoun Bayramov, Zarif voiced concern over the situation and called on both sides to declare ceasefire and end hostilities.
He called for negotiations according to the international law and expressed Iran's readiness to use all its capacities to help settle disputes.