2020-November-24 10:20
World
2020-October-9  11:52
Coronavirus UK Cases Up More Than 17,000 in 24 Hours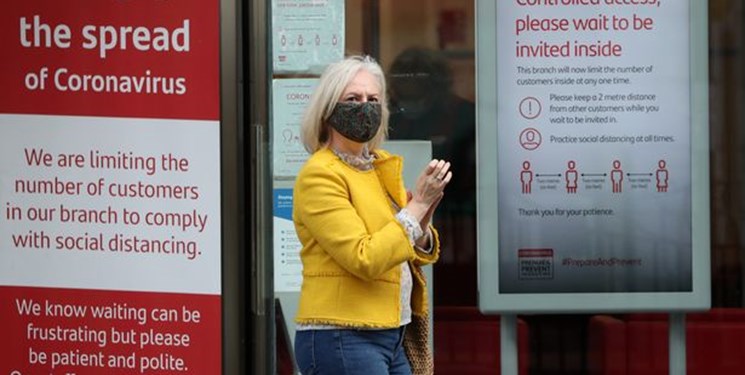 TEHRAN (FNA)- The number of coronavirus cases rose by more than 17,000 over the latest 24-hour period, government figures show.
A further 77 people died within 28 days after testing positive for COVID-19, the Department for Health and Social Care added, bringing the UK's coronavirus death toll to 42,592, The Independent reported.
In total, 17,540 new infections were reported as of 9am on Thursday October 8, up from 14,162 the day before.
The statistics also show that 3,412 people are currently in hospital with COVID-19, while 442 patients are in intensive care on ventilators to help them breathe. 
This continues the worrying rise in hospital admissions for coronavirus patients that has been recorded in recent weeks, with health officials calling for drastic action to prevent the NHS being overwhelmed during the emerging second wave.
Separate figures published by the UK's statistics agencies show there have now been 58,000 deaths registered in the UK where COVID-19 was mentioned on the death certificate.
Health Secretary Matt Hancock said the country has reached a "perilous moment" in the course of the coronavirus pandemic, saying he was "very worried" by the ongoing rise in new cases.
"I am very worried about the growth in the number of cases, especially in the North West and the North East of England, parts of Wales, Scotland and Northern Ireland and parts of Yorkshire," he told the NHS Providers annual conference.
"In parts of the country the situation is again becoming very serious," he said, adding, "Hospitalisations in the North West are doubling approximately every fortnight. They have risen by 57 percent in just the last week alone."
"Unfortunately we're seeing hospitalisations in the over-60s rising sharply and the number of deaths from coronavirus also rising," he added.
Dr Yvonne Doyle, medical director for Public Health England, said, "We are seeing a definite and sustained increase in cases and admissions to hospital. The trend is clear, and it is very concerning. 
"Numbers of deaths from COVID-19 are also rising so we must continue to act to reduce transmission of this virus," Doyle said.
Earlier on Thursday, separate data showed that the government's contact-tracing programme had failed to reach more than 30 percent of close contacts of people who tested positive for the coronavirus in England.
Some 68.6 percent of close contacts were reached through the system, once dubbed "world-beating" by Prime Minister Boris Johnson, in the week ending 30 September.
This is the lowest weekly percentage since Test and Trace began, and is down from 72.5 percent in the previous week.
Meanwhile, only two-thirds of positive COVID-19 cases were transferred to the system over the same time period.