2020-October-27 19:12
Politics
2020-October-13  13:36
Deputy Navy Commander: Capability of Iran-Made Destroyer Displayed in 70-Day-long Voyage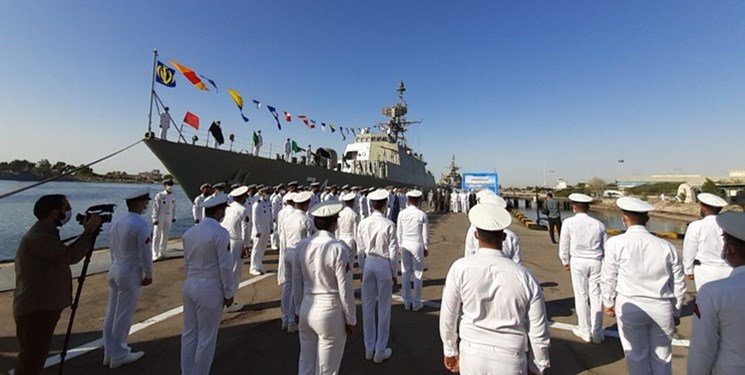 TEHRAN (FNA)- Iran's Deputy Navy Commander for Coordination Rear Admiral Hamzeh Ali Kaviani said that the home-made Sahand destroyer has returned to the country after 70 days of voyage in international waters within the framework of the 69th flotilla of warships to prove the capability of Iran-made military equipment.
"One of the notable features of this fleet of warships is the mighty return of the entirely Iran-made destroyer, Sahand, to the country which berthed at Bandar Abbas port after nearly 70 days of voyage," Rear Admiral Kaviani said on Tuesday, addressing a ceremony to welcome the 69th fleet of warships at Bandar Abbas port in Southern Iran.
He added that Sahand's fully well operation and return was a strong response to those who claimed that Iran lacks capability to build destroyers.

Rear Admiral Hamzeh Ali Kaviani
Rear Admiral Kaviani said that today the Iranian Navy's power is well beyond constructing destroyers.
The 69th fleet of warships of the Iranian Navy, comprising 'Sahand' destroyer and logistical warship 'Bandar Abbas', berthed at Southern Iranian port city this morning and was welcomed in a ceremony attended by navy commanders and staff.
The flotilla traveled a total 7,888 nautical miles during its overseas journey and tracked over 700 vessels, 36 of which were Iranian tankers and commercial vessels.
The Iranian Navy has been conducting anti-piracy patrols in the Gulf of Aden since November 2008, when Somali raiders hijacked the Iranian-chartered cargo ship, MV Delight, off the coast of Yemen.
According to UN Security Council resolutions, different countries can send their warships to the Gulf of Aden and coastal waters of Somalia against the pirates and even with prior notice to Somali government enter the territorial waters of that country in pursuit of Somali sea pirates.
The Gulf of Aden - which links the Indian Ocean with the Suez Canal and the Mediterranean Sea - is an important energy corridor, particularly because Persian Gulf oil is shipped to the West via the Suez Canal.
The Iranian warships protect the country's cargo ships and oil tankers.