2020-October-23 08:50
Politics
2020-October-13  14:01
Envoy to UN: Iran's Economy on Right Path despite US Brutal Sanctions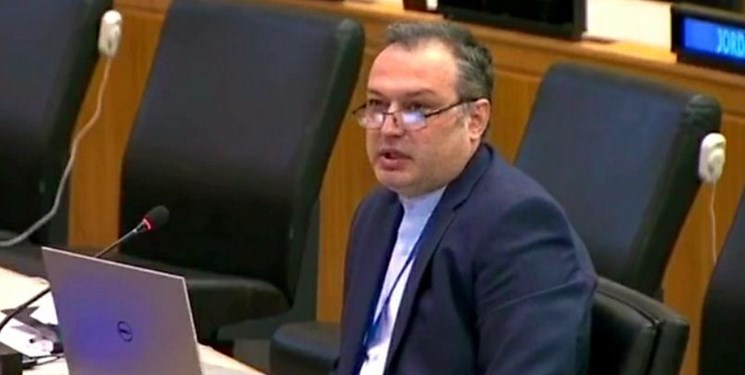 TEHRAN (FNA)- First Counselor of the Permanent Mission of Iran to the UN Ali Hajilari underlined that the Islamic Republic has made significant progress in developmental indexes despite the challenges posed by sanctions and the coronavirus pandemic.
"2020 is considered a turning point in our journey towards development. We face a formidable global challenge that threatens the lives and livelihoods of people all over the world in an unprecedented way," Hajilari said in a statement addressing Economic and Financial Committee (Second Committee) of the General Assembly at its 75th session.
"The intensity of this challenge has undermined the achievements made in decades of efforts," he added.
Referring to the challenges caused by the US' economic terrorism, he stressed, "Unfortunately, in such a critical situation where the world needs solidarity and unity more than ever, we face a surplus of unilateral approaches and a shortage of multilateral solutions."
"While the whole world is grappling with the most catastrophic epidemic of the modern era, the United States continues to impose its unilateral coercive measures, including illegal sanctions, on countries suffering the painful consequences of this disease."
He noted, "In fact, my country is now fighting on two fronts: The first is the fight against coronavirus disease and the second is the fight against US economic and health terrorism."
The diplomat called on the international community to counter the US' unilateral sanctions that have undermined the achievement of sustainable development goals.
However, Hajilari said, "Despite all the unfair and illegal pressures and sanctions, we have continued our efforts, and as a result of these efforts, according to the 2020 Sustainable Development Report, Iran has been able to rank 56th among 166 countries in terms of development indicators."
In relevant remarks on Wednesday, Iran's Representative at the Third Committee of the UN General Assembly Mohammad Zareyian warned that the US sanctions have blocked easy access to humanitarian goods and are endangering the lives of millions of people who face the coronavirus outbreak.
"The United States' insistence on continuing--or even doubling down-- on its illegal sanctions policy is not only immoral and against international law, but also endangers the lives of many people fighting the coronavirus across the globe. Contrary to the US claims, humanitarian goods and services are affected by the cruel sanctions. Financial institutions fear the US vengeance, which is why the financial channels created to facilitate transactions for humanitarian commodities, have had no tangible results," Zareyian said, addressing the 75th session of the Third Committee.
"The inhumane unilateral coercive measures have blocked Iran's efforts to import medicine and other medical supplies needed to fight the pandemic, thereby denying Iranians the right to health and to life. The unlawful sanctions have dealt a hefty blow to the very basic and fundamental rights of my people. And now, the ironic tragedy is that the US and its blind followers who confirm the unilateral coercive measures feel they can lecture us on human rights," he added.