2021-May-8 09:15
Politics
2020-October-17  15:05
Iran Condemns Killing of Civilians in Ganja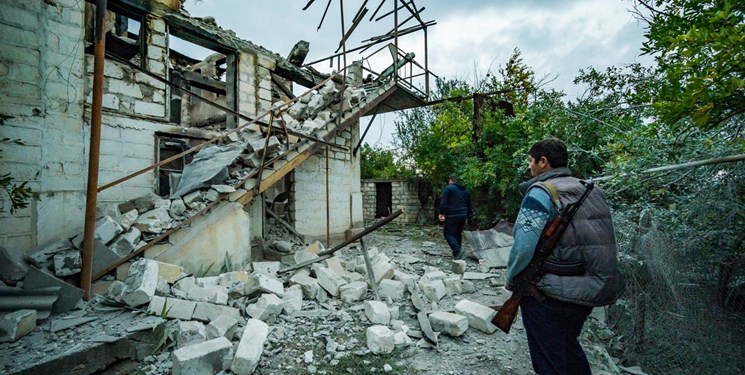 TEHRAN (FNA)- The Iranian embassy in Azerbaijan deplored killing and wounding of civilians in the Azeri city of Ganja by Armenian forces.
In the statement, the embassy of the Islamic Republic of Iran strongly condemned last night's missile attack on Ganja, the second-largest city in Azerbaijan, and the killing and wounding of a group of civilians.
The embassy also expressed sympathy with the bereaved families, and wished immediate healing for those injured in the incident.
It further emphasized that targeting defenseless cities and innocent people is against internationally recognized norms and laws, stating that such a behavior is among the war crimes that must be stopped as quickly as possible.
Armenia's forces launched a missile attack on the city of Ganja (Azerbaijan's second-largest city) at early hours of Saturday, killing 12 people and wounding 40 others, Azerbaijan's Ministry of Unexpected Incidents said on Saturday.
Iran has repeatedly asked for a peaceful settlement of the conflict and urged the cessation of hostilities in Nagorno-Karabakh.
The dispute over Nagorno-Karabakh started in 1988 and led to military conflict in 1992.
Two days ago, Armenian and Azeri foreign ministers through Russia's mediation agreed on a ceasefire but the violation of the ceasefire suggests the truce agreement is fragile.
Armenia and Azerbaijan resumed clashes on the border between the two countries on September 27 blaming each other for the violence.
Nagorno-Karabakh has been a bone of contention between the two countries over the past decades.
In 1994, following four years of military conflict between the two countries, some European and regional governments stepped in to end the territorial dispute between Baku and Yerevan, and a ceasefire was finally established through the mediation of the Minsk Group of the Organization for Security and Cooperation in Europe (OSCE). But international efforts to resolve the conflict peacefully have so far been unsuccessful.