2021-May-9 18:51
Politics
2020-October-17  17:14
Iranian, Iraqi FMs Discuss Bilateral Ties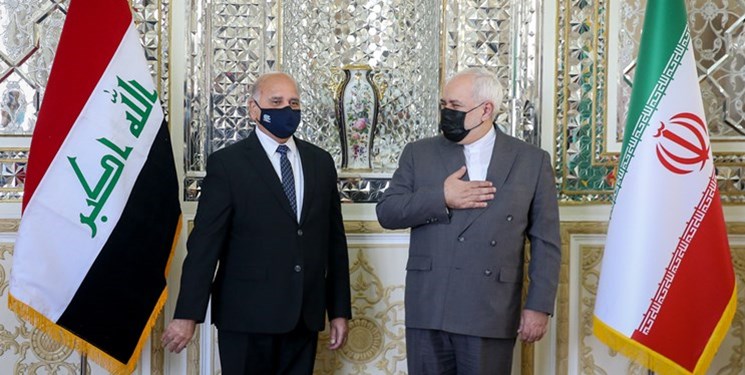 TEHRAN (FNA)- Iranian Foreign Minister Mohammad Javad Zarif and his Iraqi counterpart Fuad Hussein in a phone conversation on Saturday afternoon conferred on different issues of mutual interest, including bilateral relations between the two countries.
During the phone talks, different issues related to ties between Tehran and Baghdad, specially the recent visit by the Iraqi delegation to pursue the two sides' agreements was discussed.
Heading a high-ranking delegation, Hussein traveled to Iran late last month.
In their meeting at the time, Zarif and Hussein reviewed the ways to promote mutual cooperation in various fields. The visiting Iraqi top diplomat conferred with other Iranian officials over agreements inked during Iraqi Prime Minister Mustafa Al-Kadhimi's recent visit to Tehran. 
During his meeting with Hussein, Iranian President Hassan Rouhani said that the presence of the American armed forces destabilizes the region and is harmful to its security.
"Trying to expel the US from the region is the duty of all countries in the region," Rouhani, adding, "We consider what the Iraqi parliament has approved in this regard as a positive step."
"Today, we consider unity and interaction among various sects, including Shia and Sunni a major principle," he noted.
"We stand alongside the Iraqi government and people to help spread unity and solidarity of Iraq," Rouhani stressed.
"We have always supported the Iraqi people and government at various junctures, and the best example has been during the ISIL terrorist attacks in the country."
Hussein, for his part, conveyed warm greetings of the Iraqi president and prime minister to Rouhani and appreciated Iran for its assistance to the Iraqi people.
He further highlighted further consolidation of bilateral relations, paving the grounds for implementation of the agreements signed earlier by Baghdad and Tehran, and preparing the Arvand River for development of trade exchanges as the goals of his trip to Tehran.