2020-October-29 02:53
Politics
2020-October-18  15:18
Iran's Resistance Defeats US' Maximum Pressure
TEHRAN (FNA)- Iranian Government Spokesman Ali Rabiyee said his country has overcome the US maximum pressure via resistance of the people, adding that Washington has once again failed since Tehran is going to do arms trade with the world as the UNSC arms bans expired today.
Rabiyee said on Sunday that the Iranian nation have once more defeated the US' so-called doctrine of maximum pressure through resilience, noting that the termination of UNSC sanctions on Iran's arms trade is an example of the victory of the country's steadfastness in the face of the US pressure.
"A survey of the history of international relations shows that when the US turned into a global hegemon, it needed an external enemy to achieve internal solidarity, and to justify global intervention, aggression, and ambition," he went on to say.
"For decades, the Soviet Union played this role for the United States. After the collapse of the Soviet Union, American strategists sought to replace Confucianism with Islam and to present it theoretically as an enemy. Eventually, the Islamic Republic of Iran was targeted as the US enemy," the spokesman added.
"Since then the US enmity against Iran saw ups and downs until one of the most irrational presidents of the US came to power and pursued a policy of maximum pressure through illegal sanctions against Iran," he noted.
"Relying on domestic capacities and national might, the Islamic Republic overcame the sanctions," Rabiyee said referring to the lifting of sanctions early on Sunday as per the UN Security Council Resolution 2231. 
In relevant remarks, Iranian Parliament Speaker Mohammad Baqer Qalibaf said that expiration and removal of the UN arms sanctions against his country was a considerable failure for the US government.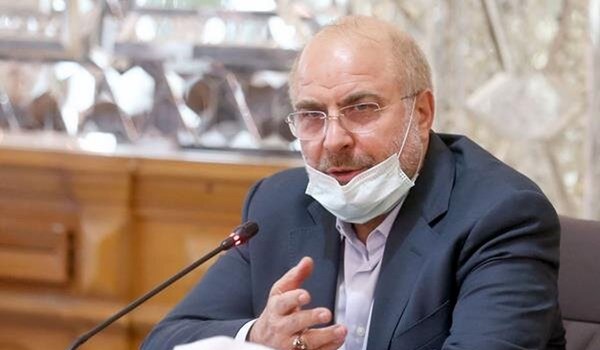 Iranian Parliament Speaker Mohammad Baqer Qalibaf
"Today is the date for expiration of arms restrictions stated in the resolution 2231. Undoubtedly, this issue is a considerable failure for the US administration which enjoys low wisdom and its show-off president who is incapable and isolated and has faced the international community's action against his illegal measures to implement the snapback mechanism and failed" to destroy the removal of Iran arms trade ban, Qalibaf said, addressing an open session of the parliament in Tehran on Sunday.
He underlined the need for the Iranian officials to take major steps to show a proper and deterrent reaction to the US increased pressures and pave the ground for purchasing and selling weapons.