2020-November-23 19:32
Politics
2020-October-20  13:25
Speaker: Friendly Ties Underlie Peace, Security in Iran, Afghanistan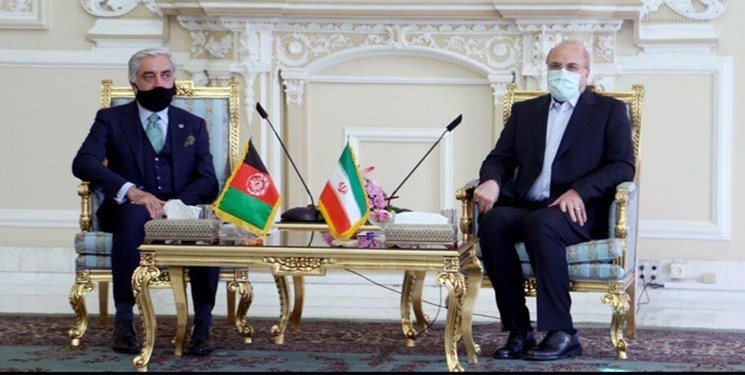 TEHRAN (FNA)- Iranian Parliament Speaker Mohammad Baqer Qalibaf said that friendly relations between Tehran and Kabul will guarantee the two countries' peace and security.
Qalibaf referred to his recent meeting with Head of Afghanistan's High Council for National Reconciliation Abdullah Abdullah in Tehran, and said that they have discussed establishment of border markets and water sharing from Hirmand River.
"Tranquility, peace and security of the two countries depend on their friendly relations to the benefit of the two nations," he wrote on his twitter page on Tuesday.
"Expansion of trade with the neighboring states is one of the main priorities of the parliament," Qalibaf said.
Abdullah arrived in Tehran on Sunday for a three-day stay and meeting with a host of officials, including President Hassan Rouhani and Foreign Minister Mohammad Javad Zarif.
Before this trip, Abdullah also visited Pakistan and India where he discussed the Afghan peace process with those countries' senior officials.
His trip comes amid ongoing peace negotiations between delegates from the Islamic Republic of Afghanistan and the Taliban.
Zarif in a meeting with Abdullah on Sunday underscored his country's support for peace talks and process led by the Afghans.
During the meeting in Tehran, Zarif reiterated Iran's support for the Afghan government and the peace process led and managed by the Afghans and agreements of participants in intra-Afghan talks.
He also appreciated Abdullah for his partnership in the political process of Afghanistan, stressing Iran's support for Taliban's partnership in the political structure of the country.
Abdullah, for his part, elaborated on the latest developments in Afghanistan and the intra-Afghan talks.
Iranian Foreign Ministry Spokesman Saeed Khatibzadeh wrote in a tweet on Sunday that "independent, developed and with peace and stability Afghanistan has always been the desire of Iran".
"We will do our best to help the genuine Afghan-Afghan dialogue," he said.
Abdullah also on Sunday held a meeting with Iranian Parliament Speaker Mohammad Baqer Qalibaf.
During the meeting, Qalibaf and Abdullah conferred on bilateral ties between the two neighboring states as well as the latest developments in Afghanistan and the peace talks.
During the meeting, Qalibaf said the United States has been destroying Afghanistan for the past decades, stressing that the security of the Islamic countries has no room in the US policy.
"Americans are just after advancing their own schemes and do not care about progress and security of the Muslim countries," he said, while reiterating Iran's support for the Afghan government and constitution.
Iran's speaker added that Afghanistan has been suffering from insecurity and instability since 4 decades ago till the current presence of US occupying forces.
"As long as regional countries, nations and their different ethnic groups have not gained unity, coordination and empathy, foreign forces, led by the US, will only pursue their vested sinister objectives," Qalibaf said.
He said Iran has always tried to consolidate unity among Muslim countries without any interference in their internal affairs, stressing that Iran and Afghanistan enjoy deep historical and cultural bonds.
Abdullah, for his part, hailed Iran's support for his country, saying that Tehran aims to support the establishment of peace in Afghanistan within the framework of the country's constitution and in line with its Islamic government.
He said that Tehran and Kabul are working on a comprehensive document for boosting bilateral cooperation and have made major progress in this regard.
"Iran and Afghanistan have common historical and civilizational roots and their common customs will further boost bilateral cooperation," he noted.