2020-December-2 03:02
Politics
2020-October-27  16:52
Iran's New Envoy Submits Copy of Credentials to Yemeni FM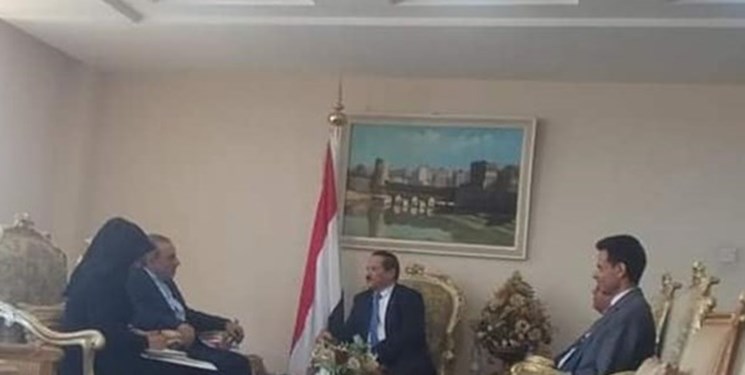 TEHRAN (FNA)- Iran's new Ambassador to Yemen Hassan Irlou held a meeting with Foreign Minister of the Yemeni National Salvation Government Hisham Sharaf in Sana'a on Tuesday.
During the meeting, Irlou submitted a copy of his credentials to Sharaf.
Iran had confirmed on Saturday that Irlou had arrived in Sana'a and would soon submit his credentials to the Yemeni officials.
Irlou was born in Shahr-e Rey district of Tehran in 1959. He holds an MA degree in Arabs and Peninsula politics. Irlou is a veteran Iranian diplomat who managed Yemen desk at the foreign ministry after the start of war in the country in 2015. He has also served efforts to coordinate Iran's humanitarian aid to Yemen once the war ends (sending aid planes and ships and coordination with the UN to dispatch humanitarian aid). Irlou has also been a special aide to the Iranian foreign minister on Yemen issues (2014-2020).
Irlou's approaches, policies and priorities are as follows as declared by the foreign ministry:
Cooperation with Yemen's official and state centers;
Efforts to strengthen national reconciliation in Yemen and ending the cruel war against the Yemeni people through international bodies, the Yemeni government and different political Yemeni sides and interested countries;
Efforts through the international bodies and the friendly states to weaken the cruel siege on the Yemeni people to meet their vital needs;
Stressing the territorial integrity and national unity government and opposition to the disintegration, foreign interference and colonialism in Yemen;
Efforts to prevent, decrease and stop war crimes, massacre and destruction of Yemen via the international bodies and encourage tribes and political groups to resolve their internal problems through Yemeni-Yemeni talks;
Efforts focusing on the necessity to establish security and stability in Yemen and end the instruments of military intervention and colonial goals in Yemen;
Efforts in line with humanitarian measures in food, medicine, hygiene and medical fields through international bodies, NGOs and friendly states;
Stressing the destructive impacts of the Zionist regime's interferences, western colonialism and the warmonger states;
Stressing the righteousness of the legitimate defense of the Yemeni people against the warmongering and meddlesome policies and plundering of the Yemeni people's wealth.