2020-November-30 14:54
World
2020-October-30  17:42
Poll: Nearly 60 Percent Disapprove of Trump's Big Rallies During Pandemic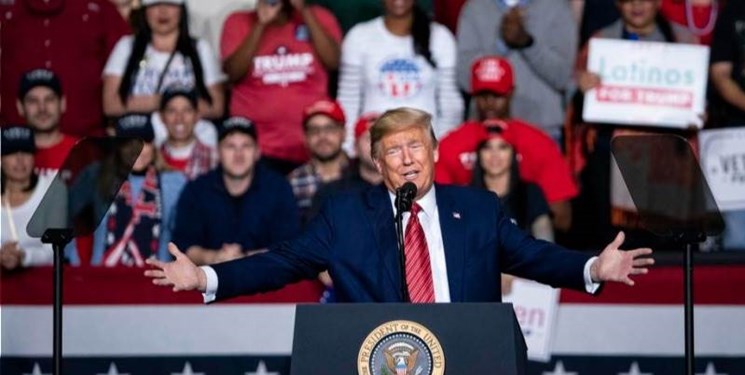 TEHRAN (FNA)- Nearly 60 percent disapprove of President Donald Trump holding rallies during the coronavirus pandemic, according to a USA TODAY/ Suffolk University poll.
In contrast, the poll found 64 percent approve of Democratic presidential nominee Joe Biden's decision to not hold large events with audiences given the risks of the coronavirus.
Cases of COVID-19 have been spiking across the country in the last two weeks raising fears about a difficult winter. The coronavirus has been the dominant issue in the presidential campaign.
The USA Today poll found Biden with an eight-point lead over Trump, 52 percent to 44 percent. The poll was taken after last week's presidential debate.
Trump has seen the big rallies as his ticket to a second term and has been barnstorming the country. Similar events in 2016 were seen as a key part of Trump's surprise victory over Democratic nominee Hillary Clinton. 
Most of Trump's rallies have been held outside, which reduces he chance that the COVID-19 disease will spread. But people have been packed together closely, and many people have not worn masks at the rallies. 
Trump himself has politicized the wearing of masks, mocking reporters and Biden for wearing them.
The president has also publicly criticized Biden for his choice to hold more small-scale events. For many of the events, the Biden campaign encourages attendees to be tested before and enforces mask-wearing and social distancing through white spray-painted circles, according to USA TODAY.
There was a heavy partisan breakdown in the USA Today polling.
Nearly 95 percent of Democrats polled said that they do not approve of Trump's rallies, while 73 percent of Republicans said that they are in favor of the rallies, according to the poll.
More young voters were likely to disapprove of the rallies, according to the poll. Women were less likely to approve of the Trump rallies. 
Eigty-five percent of Black voters and 75 percent of Hispanic voters disapproved of Trump's rallies, while 51 percent of white voters polled disapproved.