2020-November-26 09:55
Society_Culture
2020-November-14  15:11
Winner of Mustafa Prize in Iran behind Leading COVID-19 Vaccine
TEHRAN (FNA)- Dr. Ugur Sahin who was awarded the Mustafa Prize, a biennial Iranian prize for Muslims in science and technology, is the leading scientific figure behind the coronavirus vaccine which has found to be more than 90% effective.
Dr. Sahin, the founder BioNTech company, was the recipient of the 2019 Mustafa Prize in Iran in 2019 for development and clinical testing of cancer therapeutic vaccines based on the mRNA for the individual patients regarding their mutation profile.
Last Monday, BioNTech and Pfizer announced that a vaccine for the coronavirus developed by Dr. Sahin and his team was more than 90 percent effective in preventing the disease among trial volunteers who had no evidence of having previously been infected. The stunning results vaulted BioNTech and Pfizer to the front of the race to find a cure for a disease that has killed more than 1.2 million people worldwide.
"It could be the beginning of the end of the Covid era," Dr. Sahin said in an interview on Tuesday.
BioNTech began work on the vaccine in January, after Dr. Sahin read an article in the medical journal The Lancet that left him convinced that the coronavirus, at the time spreading quickly in parts of China, would explode into a full-blown pandemic. Scientists at the company, based in Mainz, Germany, canceled vacations and set to work on what they called Project Lightspeed.
Two years ago, Dr. Ugur Sahin took the stage at a conference in Berlin and made a bold prediction. Speaking to a roomful of infectious disease experts, he said his company might be able to use its so-called messenger RNA technology to rapidly develop a vaccine in the event of a global pandemic.
At the time, Dr. Sahin and his company, BioNTech, were little known outside the small world of European biotechnology start-ups. BioNTech, which Dr. Sahin founded with his wife, Dr. Özlem Türeci, was mostly focused on cancer treatments. It had never brought a product to market. Covid-19 did not yet exist. But his words proved prophetic.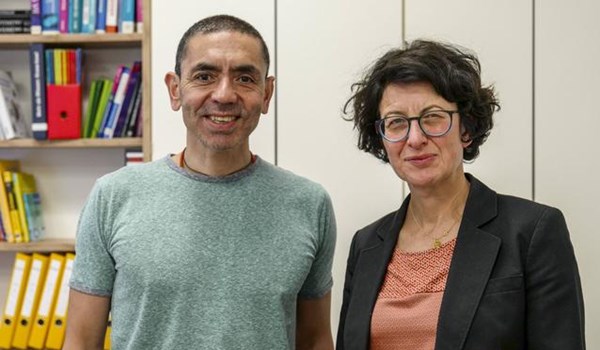 Dr. Sahin, 55, was born in Iskenderun, Turkey. When he was 4, his family moved to Cologne, Germany, where his parents worked at a Ford factory. He grew up wanting to be a doctor, and became a physician at the University of Cologne. In 1993, he earned a doctorate from the university for his work on immunotherapy in tumor cells.
Even before the pandemic, BioNTech was gaining momentum. The company raised hundreds of millions of dollars and now has more than 1,800 people on staff, with offices in Berlin, other German cities and Cambridge, Mass. In 2018, it began its partnership with Pfizer. Last year, the Bill & Melinda Gates Foundation invested $55 million to fund its work treating H.I.V. and tuberculosis. Also in 2019, Dr. Sahin was awarded the Mustafa Prize, a biennial Iranian prize for Muslims in science and technology.
Late in May 2020, Sahin gave a speech on "Developing COVID-19 mRNA vaccines" during the closing ceremony of the 7th Science and Technology Exchange Program (STEP).
Organized by the Mustafa Science and Technology Foundation (MSTF), the 10-day forum was held virtually from May 18 to 28 with the participation of a number of prominent Muslim scientists from around the world. It attempted to provide the best possible platform through a virtual thematic meeting on the coronavirus and synergize the capacities and capabilities of scientists and experts in the Islamic world to help solve this global crisis.
The 2019 Mustafa (PBUH) Prize laureate immunologist Dr. Sahin talked about an mRNA-based vaccine that he and his research team have developed which was recently tested on humans.
"We are facing a pandemic the only solution to which is a vaccine. This pandemic will challenge us for the next two years."
Explaining the concept of mRNA vaccines, he said that "they deliver mRNA-encoded genetic information of the vaccine antigen to the cells in the body of the subject. It is particularly used in pandemics."
"mRNA vaccines can be designed and manufactured fast within weeks; they have intrinsic immune-stimulatory properties and do not require the addition of adjuvants; they are highly immunogenic and induce neutralizing antibodies as well as T-cell responses. They are also well-characterized biopharmaceuticals with high purity and are free of animal material," he added.
According to Sahin at the time, the clinical trial protocol in Germany started April 23rd, 2020, with a target population of 200 healthy subjects aged 18 to 55. The objective of this was safety, tolerability, immunogenicity, in addition to determining the optimal dose for further studies."