2020-November-26 10:47
Politics
2020-November-15  15:12
Baqeri: Tehran, Baghdad Defense Cooperation to Enhance Regional Security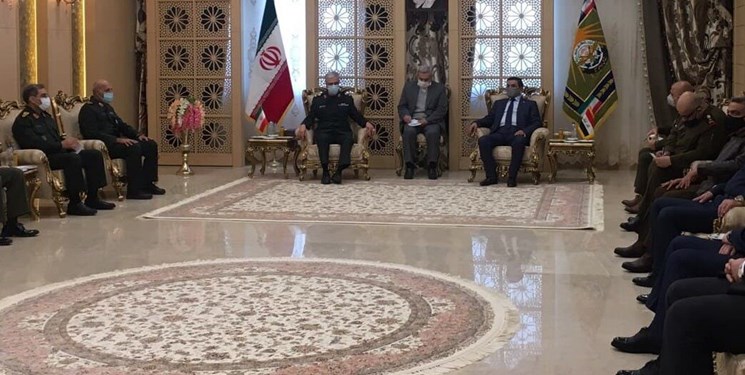 TEHRAN (FNA)- Chief of Staff of the Iranian Armed Forces Major General Mohammad Hossein Baqeri warned that the United States is seeking to revive terrorists in the region, adding that regional security will increase through defense cooperation between Iran and Iraq.
"Given that Americans are seeking re-emergence of terrorists in the region, defense cooperation between Iran and Iraq will provide better security for Iraq," Baqeri said during his meeting with visiting Iraqi Minister of Defense Juma Anad Saadoun on Sunday.
"The Armed Forces of Iran and Iraq, as two neighboring and brotherly countries, have enjoyed long-term ties and interests," the top commander reiterated.
"Iraqi officials will visit Iran's Defense Industries Exhibition during their visit to Iran," he said pointing to the programs of the Iraqi delegation.
Iraqi Defense Minister Juma Anad Saadoun arrived in Tehran on Saturday at the head of a high-ranking military and defense delegation at the official invitation of Iranian Minister of Defense Brigadier General Amir Hatami.
Meanwhile, Iranian Defense Minister Brigadier General Amir Hatami in a meeting with his Iraqi counterpart General Juma Anad Saadoun in Tehran on Saturday underlined his country's preparedness to supply the Armed Forces in Iraq with needed weapons and military equipment.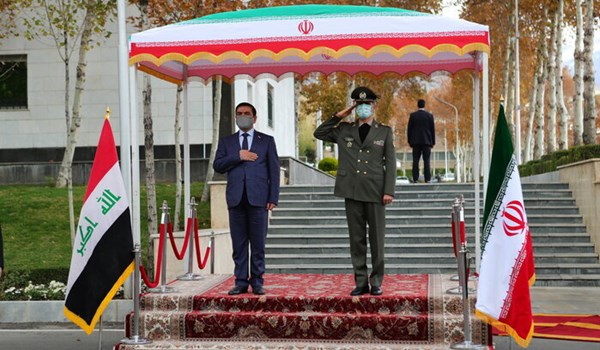 Iraqi Defense Minister General Saadoun (L) and His Iranian Counterpart General Hatami (R)
"Thanks to its abundant capacities and infrastructures which are the fruits of the cruel sanctions era after the victory of the Islamic Revolution, the Islamic Republic of Iran's defense ministry is ready to provide the Iraqi Armed Forces' needs to strengthen Iraq's defense power," General Hatami said in the meeting.
"The Iranian and Iraqi leaders at the highest level enjoy the political will to deepen extensive relations," he added.
General Hatami said that Iraq now enjoys better security compared with the past, adding, "We continue support for the political process and stability and security in Iraq and the brotherly neighboring state's territorial integrity."
He warned of plots hatched by the world powers, spearheaded by the US, to foment insecurity in the region, and said, "We believe that the regional states should themselves establish and manage security in the region, and attaining stability and peace will be impossible as long as the trans-regional forces are present and interfere in the region."
General Hatami also said that the Iranian and Iraqi nations as well as the resistance front will never forget the blood of martyred anti-terror commander Lieutenant General Qassem Soleimani and Deputy Commander of Iraq's Popular Mobilization Forces (PMF) Abu Mahdi al-Muhandis who were assassinated by the US in Iraq in January.
Saadoun, for his part, stressed Iraq's willingness to use Iran's valuable experiences in the defense field, appreciating the country for its assistance to Iraq in fighting against the ISIL and other terrorist groups by playing military advisory role and supplying weapons.