Politics
2020-November-16  13:13
IRGC Commander Vows to Avenge Martyr Soleimani's Blood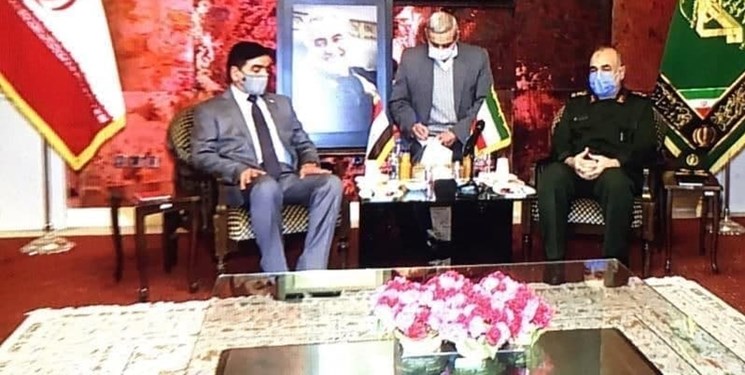 TEHRAN (FNA)- Commander of the Islamic Revolution Guards Corps (IRGC) Major General Hossein Salami emphasized that Iran will take revenge from the killers of Lieutenant General Qassem Soleimani, stressing that martyr Soleimani and deputy commander of Iraq's Popular Mobilization Forces (PMF) Abu Mahdi Al-Muhandis played the main role in obliteration of ISIL.
Salami made the remarks during a meeting with the visiting Iraqi Defense Minister Juma Anad Saadoun on Sunday, adding that Iran will definitely take revenge for General Soleimani's blood from murderers on the battlefield.
"Taking revenge has nothing to do with the legal pursuit of the assassination," he said, adding, "We are sure that the children of the great Iraq will also take revenge for Abu Mahdi Al-Muhandis' blood."
"General Soleimani started defeating ISIL from Iraq. Americans could not tolerate his brilliance and decided to kill him," the commander noted.
"Iran wanted to see independent, integrated, great and secure Iraq," Salami said and added, "That's why we sent our most prudent and wisest commander to Iraq in the era of ISIL's maximum presence."
He stressed that American forces should be expelled from Iraq based on the Iraqi parliament's approval.
The Iraqi defense minister, for his part, said Iran helped Iraq during the crucial era of ISIL assault, adding, "Our Iranian brothers helped us in fighting ISIL terrorists."
He added that the aim of his visit to Tehran is to develop bilateral ties to fulfill Iraqi defense needs.
In relevant remarks, Iranian Defense Minister Brigadier General Amir Hatami in a meeting with his Iraqi counterpart General Juma Anad Saadoun in Tehran on Saturday underlined his country's preparedness to supply the Armed Forces in Iraq with needed weapons and military equipment.