2020-December-3 23:38
Society_Culture
2020-November-17  16:23
Iran Unveils Rapid Antigen Coronavirus Test Kits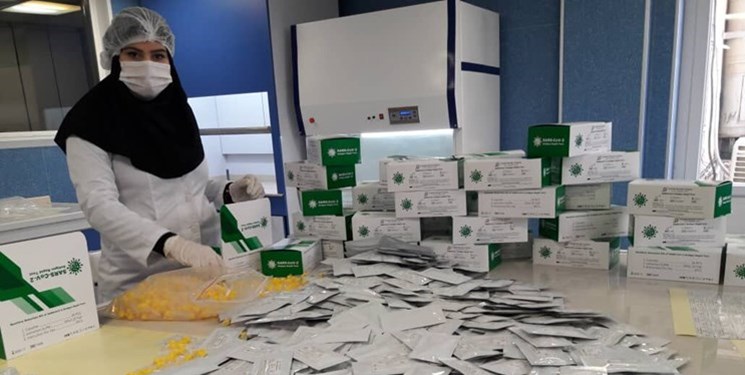 TEHRAN (FNA)- Iran on Tuesday unveiled a rapid antigen-based coronavirus test kit which is capable of diagnosing COVID-19 virus in 20 minutes.
"We have produced a rapid antigen-based coronavirus test kit at this stage which can identify infected people in 15 to 20 minutes," Seyed Sajjad Moravveji, the CEO of Salamat Eletronic Barakat, said.
He added that the new kit has a performance similar to CPR tests and can be used for outpatients.
"The kit has a lower price compared to other kits in the market," Moravveji said.
Also, Head of the Coronavirus Control Operations Headquarters in Tehran Alireza Zali said that Iran is among the 5 world states able to produce rapid antigen coronavirus test kits, noting that the new Iran-made kits can diagnose coronavirus with 85% of preciseness.
He added that the rapid antigen kits have been made as a result of cooperation among Headquarters for Executing the Order of Imam (Khomeini), Shahid Beheshti University and the Headquarters to Confront Coronavirus.
Iran has been highly praised for its robust response to the coronavirus disease as many governments and organizations keep castigating the US for its refusal to lift illegal sanctions to let the country access medical supplies and vital equipment needed to confront the virus.
Vice President for Science and Technology Sorena Sattari said in May that Iranian knowledge-based firms had started manufacturing coronavirus test kits and eight countries had agreed to import such items from the country.
"Iran presently has a capacity of producing 1 million serology test kits per day and 1.5 million of C-Creative Protein (CPR) test kits per month," Sattari said.
"Part of the mentioned figure is used inside the country and the rest is exported," he added.
In relevant remarks on May 10, Deputy Head of the Iranian presidency's office for scientific affairs Mehdi Qalenoyee said that Iranian firms are going to export serological test kits to eight more countries.
Qalenoyee said export of two types of coronavirus test kits to the Philippines and Pakistan was waiting for confirmation from the local officials after Iranian companies manufacturing the special tools sent sample kits to labs in those countries.
He added that India, Nigeria and Armenia will receive the items once travel restrictions are eased.
The official also said that Qatar, Georgia and Syria will soon be included in the list of export destination for the Iranian test kits.
The announcement comes a few days after Iran sent a first cargo of serological test kits to Germany.