2021-May-8 08:57
Politics
2020-November-21  18:41
Iran Condemns Terrorist Attacks against People, Diplomatic Places in Afghanistan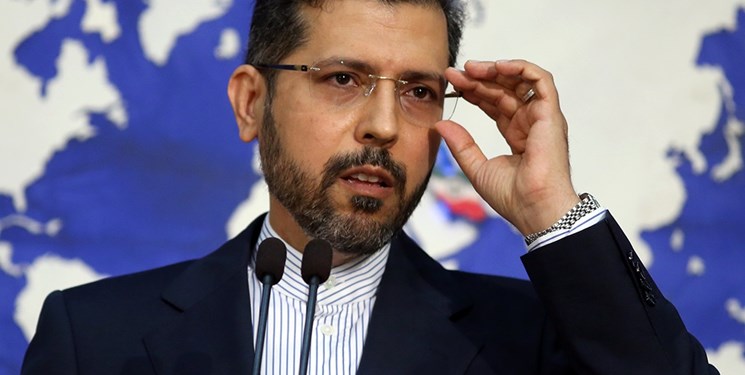 TEHRAN (FNA)- The Iranian foreign ministry deplored the Saturday terrorist attacks on different parts of Kabul, including Iran's embassy, blaming the US and its terrorist allies.
"Based on investigations carried out so far, at least one rocket has hit the inside area of the Iranian embassy in Kabul in today's terrorist missile attacks in different parts of Kabul city, including the diplomatic quarter of the city, as a result of which minor damage has been inflicted on some facilities and equipment of the embassy. Meantime, fortunately, no danger has been posed to the staff of our country's mission," Foreign Ministry Spokesman Saeed Khatibzadeh said.
He added that the terrorist attack is an instance of the proxy war and measures of the US terrorist allies in Afghanistan, stressing that Washington should directly account for it.
Khatibzadeh also extended his condolences to the Afghan government and people, specially the bereaved families of the victims.
A rocket barrage slammed into the heavily fortified Green Zone where many embassies and international firms are based in the Afghan capital, Kabul, killing at least eight civilians and wounding dozens more on Saturday.
Tariq Arian, spokesman for the interior ministry, said "terrorists" mounted the rockets on a small truck and set them off, adding an investigation was under way to find out how the vehicle came inside the city undetected.
"Based on initial information eight people were martyred and 31 others were wounded," Arian said, noting the final toll would change.
Kabul police spokesman Ferdaws Faramarz confirmed the same tolls and details.
Taliban fighters denied involvement in the attack, saying they "do not blindly fire on public places".
A rocket hit Iran's embassy in Afghanistan on Saturday morning, causing no fatalities, the Iranian embassy said in a tweet following the attack.