2021-March-2 22:48
Politics
2020-November-21  18:46
Senior Iranian Diplomat Raps West for Taking Hostage Syria's Humanitarian Issues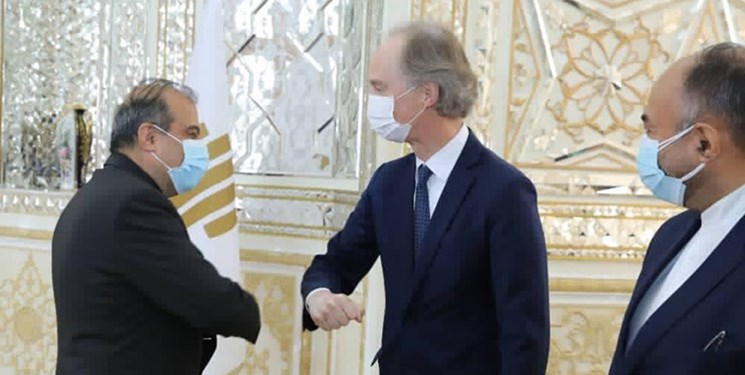 TEHRAN (FNA)- Senior Assistant to the Iranian Foreign Minister for Special Political Affairs Ali Asqar Khaji said that the western states are using the humanitarian issues in Syria to attain their political goals.
Khaji made the remarks in a meeting with UN Special Envoy for Syria Geir Otto Pedersen in Tehran on Saturday.
During the meeting, the two sides discussed the latest developments in Syria, including the constitution committee, conference on refugees, Idlib and Eastern Euphrates.
Khaji lauded Pedersen for his efforts to find a political solution to the crisis in Syria and continued meetings of the constitution committee, blasting certain countries, specially the western states, for non-participation in the conference on refugees.
"The western states which claim to be supporting the humanitarian issues, have taken hostage the humanitarian issues in Syria to attain their political goals and have attempted to prevent holding the conference (on refugees)," he added.
Pedersen, for his part, elaborated on the latest coordination with members of Syria's constitution committee about their next meeting, appreciating Iran's efforts to support the political process to resolve the crisis in Syria.
In relevant remarks earlier this month, Khaji in a phone conversation with Pedersen said various parties should converge to tackle the challenges facing Syria, insisting on the dire need for international participation to this end.
The Iranian diplomat underlined the need for collective efforts to help resolve Syria's challenges as a humanitarian and positive move.
Pedersen, for his part, elaborated on the results of his negotiations with the representatives of several regional countries over the Syrian issue.
The two sides also exchanged views on the political process and activities of the Syrian Constitutional Committee.
They also addressed the issue of the Syrian refugees which will be discussed during a conference in Damascus in the coming weeks.
Back in late September, also, Khaji and Pedersen had underlined political means as the way to reach a final solution to the Syrian crisis.
Khaji and Pederson discussed the latest Syrian developments during a phone call on September 26.
They emphasized achieving a final solution through respecting Syria's national sovereignty and territorial integrity.
Both diplomats voiced their support for the strengthening of the political trend and the continuation of cooperation with the Syrian Constitutional Committee.
Pederson and Khaji urged the international community to help the Syrian people given the tough humanitarian conditions in the country.