2020-December-2 13:53
World
2020-November-22  14:11
US COVID-19 Cases Surge Past 12mln as Fatal Virus Spreading 'Faster', 'Broader'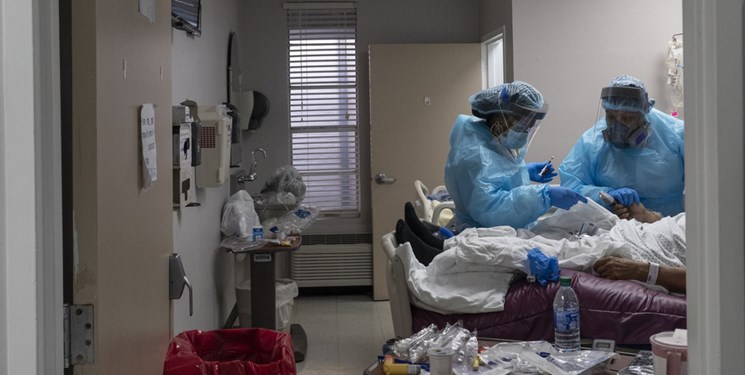 TEHRAN (FNA)- The United States topped 12 million cases of novel coronavirus on Saturday amid a third wave of infections that is anticipated to be exacerbated in the coming cold months.
The number of virus cases in the United States surpassed 12 million Saturday --- an increase of more than 1 million cases in less than a week. The virus has spread more quickly in recent days than in past weeks, with the country taking more than two weeks to go from 8 million to 9 million cases, 10 days to go from 9 million to 10 million cases and six days to go from 10 million to 11 million cases.
It's another horrific milestone in a month full of COVID-19 records in the country. November already accounts for almost a quarter of all coronavirus cases and 9% of deaths. The nation has reported a staggering 2.9 million infections since the beginning of the month.
According to Johns Hopkins University data, almost 256,000 Americans have lost their lives due to the deadly disease.
The rising number of cases have brought some hospital systems to their knees and prompted state leaders to take action to help curb the spread.
Several hospital leaders have warned the American Hospital Association they are experiencing staffing shortages, according to Nancy Foster, the association's vice president for quality and patient safety policy.
Of about 2,000 hospitals considered to be rural, about 1,700 have 50 beds or fewer and about 1,300 of them have 25 beds or fewer, according to Tom Morris, associate administrator for rural health policy in the federal government's Health Resources and Services Administration.
The virus is still running unabated in the US and the rate of rising cases is now "dramatically" different from what it was before, White House Coronavirus task force coordinator Dr. Deborah Birx told CNN's Chief Medical Correspondent Dr. Sanjay Gupta.
"This is faster. It's broader. And what worries me, it could be longer," she warned.
Dr. Esther Choo, professor of emergency medicine at Oregon Health & Science University, said the real case count is likely to be "multitudes" higher than the 12 million reported because not enough people are getting tested.
Choo added she is particularly concerned by how quickly new cases are accelerating.
With people increasingly getting sick, and others without symptoms seeking reassurance ahead of the holiday, long lines are forming outside testing sites around the country, appointments are filling up, and commercial labs are warning that their capacities are being stretched.
Public health officials have warned that the winter months will be difficult in the fight against the coronavirus pandemic given that social events will largely move to indoor settings, where the virus can more easily spread. Experts have also voiced concerns that national travel during Thanksgiving could spark an even faster spread of the virus, with the Centers for Disease Control and Prevention (CDC) this week recommending people avoid traveling to see friends and family.
Pfizer and Moderna, two companies working to create a coronavirus vaccine, have each reported promising results from preliminary analyses of their Phase 3 clinical trials. Russia's President Vladimir Putin also told G20 leaders Saturday that Moscow is ready to provide its vaccine to other countries who need it.