2020-November-23 19:56
World
2020-November-22  14:31
Millions of Americans Carry On with Their Holiday Plans Ahead of Thanksgiving as COVID-19 Cases Top 12mln, Hospitalizations Reach 82k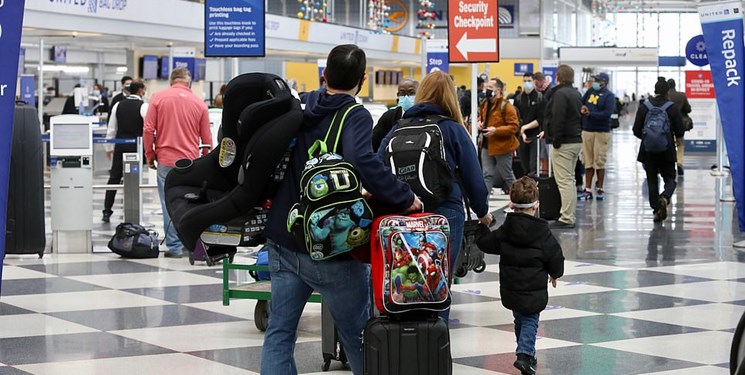 TEHRAN (FNA)- Millions of Americans are carrying on with their travel plans ahead of Thanksgiving weekend despite the Centers for Disease Control and Prevention (CDC)'s urgent warnings to stay home as the number of daily cases and hospitalizations in the country continue to hit record highs.
Confirmed cases in the US for the deadly disease topped 12 million on Saturday. At least 82,000 patients are now hospitalized across the country, America News reported.  
The alarming surge shows the nation is facing a new wave of the coronavirus this winter that could be more dangerous and widespread than the initial outbreak earlier this year.  
It has also sparked fears among health experts that Thanksgiving travel and holiday gatherings next week will only fuel the spread of the virus and prolong the length of the coronavirus pandemic. 
The CDC on Thursday recommended people avoid traveling during the holiday and advised against gathering with anyone who has not lived in the same household for at least 14 days, the incubation period for the virus. 
Despite experts warnings, millions of Americans are going forward with their travel plans, with photos showing large crowds at airports across the country ahead of the holiday weekend. 
This year, shares in airlines and hotel companies have plummeted since the outbreak began as government officials have advised against unnecessary travel. 
According to the AAA travel agency, the number of travelers this Thanksgiving is estimated to dip by at least 10 percent - the largest single-year drop since 2008 - to 50 million.  
With the CDC new recommendations, it expects that number now to be even lower.  
However, the travel advice however is only a "strong recommendation" not a requirement, meaning there will be millions who will travel regardless.  
The agency estimates 47.8 million Americans will still travel for the holiday by car and another 2.4 million will fly.