2021-March-3 18:32
Politics
2020-November-23  16:10
Iranian Envoy, Yemeni FM Meet on Ways to End Devastating Saudi-Led War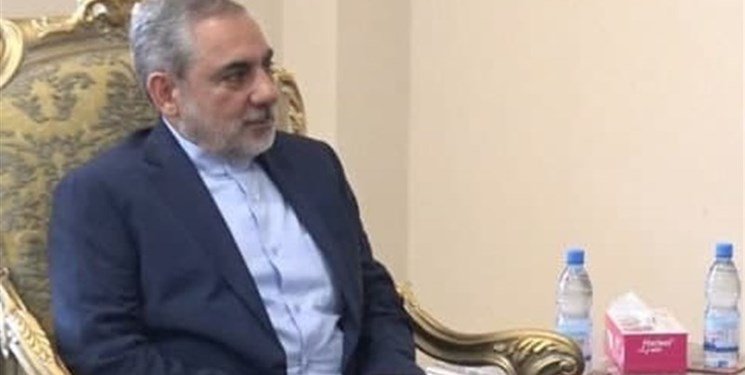 TEHRAN (FNA)- Iranian Ambassador to Yemen Hassan Irlou and Foreign Minister of the Yemeni National Salvation Government Hisham Sharaf in a meeting in Sana'a conferred on ways to end the devastating Saudi-led coalition's war against the poor Arab country.
"At the meeting, we consulted on Iran's position to support all international efforts to end the war in Yemen which has created the worst humanitarian catastrophe," Irlou wrote on his twitter page on Sunday night.
He added that among other issues discussed in the meeting was academic cooperation between the two countries and Iran's preparedness to give scholarship to the young Yemenis in Iranian universities.
In relevant remarks last week, Irlou condemned 6 years of Saudi-led aggression and myriads of crimes against Yemen, stressing that the people of the poor country will resist till final victory.
Irlou, in a post to his Twitter page, strongly deplored the Saudi regime for 6 years of aggression against the Yemeni people and destruction of the infrastructures of the country, emphasizing that the country's people will stand steadfastly against the aggressive and criminal Saudi regime till gaining victory.   
"Here is an overwhelming blockade that chokes the Yemeni people one day after another," he wrote, adding, "There has been unspeakable destruction on the infrastructures; yet, the people's steadfastness will continue until victory."
Also, on Saturday, Irlou emphasized his country's full support for the Yemeni nation, promising Tehran's resolve to develop relations with the war-torn country.
Irlou made the remarks in a meeting with Speaker of the House of Representatives of Yemen Yahya Ali al-Raee, adding that Iran will spare no effort to support the Yemeni people and transfer experiences in all fields, he added.
He referred to granting of more scholarships to Yemeni citizens in all fields and promised to develop bilateral relations in various fields.