2021-January-23 21:47
Politics
2020-November-23  17:35
IRGC Seizes Cargo of Smuggled Weapons in Northwestern Iran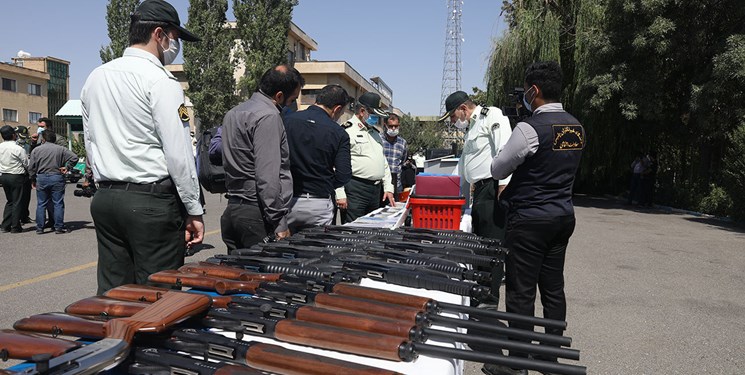 TEHRAN (FNA)- The Islamic Revolution Guards Corps (IRGC) forces stationed in Northwestern Iran discovered and seized a cargo of hundreds of weapons being smuggled into the country by anti-revolutionary forces.
Commander of the Operational Division of the IRGC's Seyed al-Shohada Headquarters in Northwestern Iran Brigadier General Abroshan announced on Monday that a big cargo of weapons and ammunition has been discovered and seized by his forces while being smuggled into Iran.
He added that the anti-revolutionary forces received a heavy blow in the operations.
"These weapons included 271 guns and hunting weapons and the hostile elements wanted to foment insecurity by transferring them to the cities inside Iran," General Abroshan said, warning of a crushing response to any sabotage acts by the enemies.
In a relevant development in October, the IRGC discovered and seized a large number of smuggled guns in Fereidounkenar city in the Northern province of Mazandaran.
Commander of the Basij (volunteer) forces of Fereidounkenar city in Northern Iran Mohammad Barmar made the announcement, saying that the weapons were seized during special operations in cooperation between the Judiciary and the IRGC security forces.
"A Peugeot taxi car and a truck were seized and 64 guns were discovered and confiscated," he added.
Barmar said that two non-local suspects were also detained during the operations.
Also last month, a senior advisor to Iranian intelligence minister warned of enemies' plots to arm people in the country with smuggled weapons to foment insecurity.
"The enemy is attempting to bring people to the streets to spark two incidents," said the senior advisor who is also the director-general of the intelligence ministry's office in Khorassan Razavi province in Northeastern Iran.
"The enemy wants to make the internal equations in Iran violent, specially in the streets of the big cities, by supplying smuggled weapons among people," he added.