2021-January-27 20:21
World
2020-November-26  17:02
Dominion Voting Systems Employees Threatened, Including Bounty Placed on One Worker, Amid Election Controversy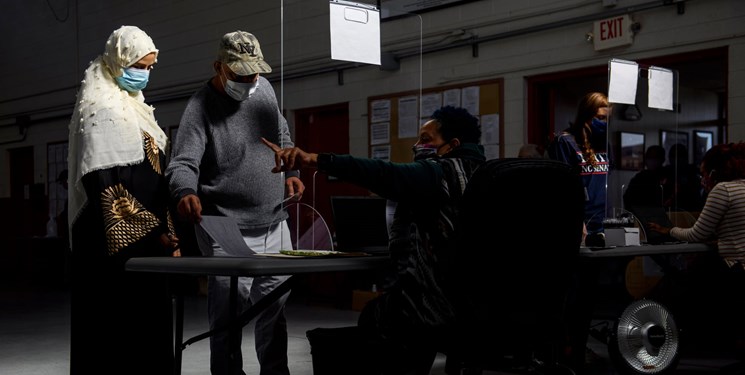 TEHRAN (FNA)- Employees at Dominion Voting Systems, a manufacturing company that produces hardware and software used to tabulate votes electronically, are facing extensive harassment as allegations of fraudulent election activity continue to circulate, according to a report.
The company supplied software to support voting processes in 28 US states during the general election, several of which were considered key battleground states in the race for president, Newsweek reported.
Democratic presidential challenger Joe Biden, now the President-Elect, won a majority of popular and electoral votes by margins that many recognized as a combined landslide. Following initial ballot tallies, and even after states began to certify official results, Republican incumbent Donald Trump sought to invalidate the election's outcome and went to great lengths in his efforts to do so.
Dominion Voting Systems became a leading target in the Trump campaign's multi-pronged attempt to contradict ballot counts across the country in the weeks trailing Election Day. As multiple lawsuits aiming to disqualify votes and suspend states' certification procedures met prompt dismissals in court, the campaign's legal team broadened its attacks on election officials to include machinery they used to tabulate ballots, as well as companies from which the electronic tools were purchased.
Smartmatic, another company that produces electronic voting systems, was also subject to misconduct allegations from Trump and his team. Claims that Smartmatic and Dominion Voting Systems engaged in ballot manipulation, or any form of voter fraud during the election, were later discredited.
Nonetheless, a Dominion representative discussed the ongoing implications of Trump and his legal team's claims on its employees this week, telling The Denver Channel that company personnel are receiving serious threats and confronting harassment.
One employee, the company announced, had a bounty issued on them over the unproven fraud allegations.
Dominion acknowledged the public backlash in a statement shared to its website, which notes that employees were "encouraged to work remotely and protect their social media profiles" in light of "persistent" harassment and subsequent concerns about safety.
"Dominion employees are being forced to retreat from their lives due to personal safety concerns, not only for our employees themselves, but also for their extended families," the statement read, adding, "Dominion team members are working around the clock to address issues with law enforcement and take every measure we can to ensure the safety of our employees."
Numerous reports conducted outside the company found Trump's accusations about Dominion, which alleged it deleted or switched votes initially cast for the sitting president, among other claims, to be false. Dominion has also formally denied the accusations and pointed out its machinery is certified under the US Elections Assistance Commission.