Politics
2020-November-27  19:59
FM Zarif: Traces of Israel's Role Seen in Assassination of Iranian Nuclear Scientist
TEHRAN (FNA)- Iranian Foreign Minister Mohammad Javad Zarif blasted the blind assassination of Iran's nuclear scientist Mohsen Fakhrizadeh, and said that footprints of the Tel Aviv regime can be seen in the terrorist attack which took place near Tehran earlier on Friday.
"Terrorists murdered an eminent Iranian scientist today. This cowardice — with serious indications of Israeli role — shows desperate warmongering of perpetrators," Zarif tweeted on Friday.
"Iran calls on int'l community — and especially EU — to end their shameful double standards & condemn this act of state terror," he added.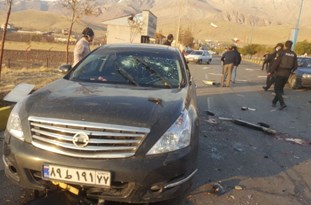 Earlier, the Iranian foreign minister in a statement had strongly condemned the assassination of Iranian nuclear scientist Mohsen Fakhrizadeh.
Iranian nuclear scientist Mohsen Fakhrizadeh came under attack by terrorists in the town of Absar in Damavand county to the East of Tehran Friday afternoon and was martyred hours later.
Fakhrizadeh's car was targetted by an explosion and machinegun fires in Damavand's Absard 40 kilometers to the East of Tehran.
The nuclear scientist and one of his companions were immediately taken to a nearby hospital but he could not be saved.
Eyewitness accounts confirmed that Fakhrizadeh's car came under attack first by a blast and then by terrorists who sprayed bullets at his car.
Eyewitnesses also said three to four individuals, most likely all terrorists, have been killed in the attack.
FNA reports confirmed that two dead bodies were seen in Absard Clinic and a bed full of blood where Fakhrizadeh was seen.
The security sources in interview with FNA confirmed the assassination attempt on the Iranian nuclear scientist.
Early in 2018, the Israeli sources had acknowledged that Mossad had tried to assasinate an Iranian nuclear scientist, but its operation failed. 
According to Fars News Agency, Mossad had gained access to Fakhrizadeh's name via a UN list which referred to him as a senior scientist of Iran's Defense Ministry's Physics Research Center.
Iranian nuclear scientists have been the target of the western and Israeli spy agencies' assassination attempts in recent years.
In June 2012, Iran announced that its intelligence forces had identified and arrested all terrorist elements behind the assassination of the country's nuclear scientists.
"All the elements involved in the assassinations of the country's nuclear scientists have been identified and arrested," Iran's Intelligence Ministry announced in a statement.
"A number of countries, whose territories and facilities had been misused by the Mossad-backed terrorist teams, have provided the Iranian officials with relevant information," the statement added.
"Over the course of the investigations, all other elements behind the assassinations of the Iranian scientists Massoud Ali-Mohammadi, Majid Shahriari and Mostafa Ahmadi Roshan as well as Reza Qashqaei (Roshan's driver) have been apprehended," the statement read.
"Some of the perpetrators of the assassination of Dr. Fereidoun Abbasi, the current head of Iran's Atomic Energy Organization, are among those arrested," the ministry added.
According to the statement, Iran's Intelligence Ministry had detected some of Mossad's bases within the territories of one of Iran's Western neighbors, which provided training and logistical support to the terrorist networks.
In the fifth attack of its kind in two years, terrorists killed a 32-year-old Iranian scientist, Mostafa Ahmadi Roshan, and his driver on January 11, 2012.
The blast took place on the second anniversary of the martyrdom of Iranian university professor and nuclear scientist, Massoud Ali Mohammadi, who was also assassinated in a terrorist bomb attack in Tehran in January 2010.
The assassination method used in the bombing was similar to the 2010 terrorist bomb attacks against the then university professor, Fereidoun Abbassi Davani – who became the head of Iran's Atomic Energy Organization - and his colleague Majid Shahriari. While Abbasi Davani survived the attack, Shahriari was martyred.
Another Iranian scientist, Dariush Rezaeinejad, was also assassinated through the same method on 23 July 2011.
In a relevant development in January, 2015, the Islamic Revolution Guards Corps (IRGC) announced that it had thwarted an attempt by the Israeli intelligence forces to assassinate an Iranian nuclear scientist.
"In the last two years, the Zionist enemy (Israel) was trying hard to assassinate an Iranian nuclear scientist, but the timely presence of the IRGC security forces thwarted the terrorist operation," Deputy Chief Liaison Officer of Flight Guards Corps Colonel Ya'qoub Baqeri told FNA in 2015.