Politics
2020-December-1  16:11
Spokesman: Iran to Give Immediate Response to Any Threat Posed by Israel's Regional Friends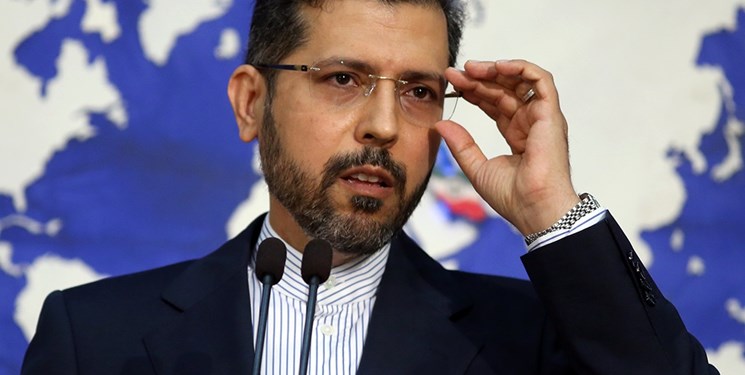 TEHRAN (FNA)- Iranian Foreign Ministry Spokesman Saeed Khatibzadeh warned that his country will show a rapid reaction to any threat posed by the Persian Gulf regional states which have normalized ties with Israel.
"We have clearly told the countries which have normalized their relations with Israel that we will give an immediate response without any hesitation to any security threat against Iran," Khatibzadeh told reporters in Tehran on Tuesday.
He, meantime, underlined that "we do not respond on the basis of suspicions, but our response comes in reaction to proof and evidence".
Iran had in August blasted the compromise deal between certain Persian Gulf Arab states and Tel Aviv, warning that them that they should account for any threat posed by Israel to the region.
"The agreement between the UAE and the Zionist regime is a scar on the Muslim world's body and the UAE has made a big mistake and we hope that it makes up for this mistake as soon as possible. The Muslim world will never forget betrayal of the holy Quds," Khatibzadeh said at the time.
He further downsized Israel as a serious threat to Iran, and said it is seen as too small and too weak as a threat, but warned that although Israel is not among the threats perceived by Iran's defense and security doctrine in the Persian Gulf region, the UAE will be held to account if the regime poses any threat to the region.
Khatibzadeh stressed Iran's seriousness about defending its security and national interests.
Also, in September, Chief of Staff of the Iranian Armed Forces Major General Mohammad Hossein Baqeri warned the regional Arab states which have normalized ties with Israel that they should account for any security problem created by the Zionists in the region.
"If the Zionists are stationed in the region and something happens which inflicts even a minimum damage on our national security and defense, we view these countries (which have normalized ties with Israel) as providers of bases to the enemy and will treat them as enemies," General Baqeri said in an interview with the state TV.
He also underlined the unstable situation of Israel and its Prime Minister Benjamin Netanyahu after several months of protest rallies, and said, "Today, if the US stops support for the Zionist regime, the regime will collapse."