2021-April-21 17:48
Politics
2020-December-15  14:15
Civil Defense Chief: Iran's Active Resistance Defeats Enemies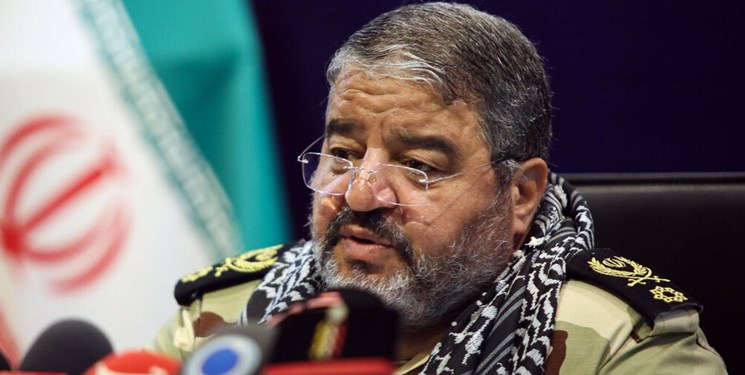 TEHRAN (FNA)- Head of Iran's Civil Defense Organization Brigadier General Gholamreza Jalali said the country's active resistance policy has defeated enemies, adding that Iran will continue the same policy.
"Iran's active resistance, the strategy put on agenda by the Supreme Leader of the Islamic Republic [Ayatollah Khamenei], has defeated the US maximum pressure," Jalali said on Monday, and noted that resisting the threats of the enemies is the way to become strong.
"The world is astonished by the resistance of Islamic Iran and the failure of the enemy in different arenas indicates that our active resistance has been effective," he went on to say.
"Signs of victory are emerging, and this is the result of the resistance of the Iranian nation," the official added.
"Iran's response to threats would always be harsh," Jalali stressed, and added, "yet, this response won't be necessarily military or security one, it can cover a wide range of legal issues."
He referred to the parliament's strategic bill to counter the illegal US sanctions against the country, saying "We need to change the paradigm on the nuclear issue."
"The strategic bill is a national decision that enables us to get the upper hand in dealing with the enemies," the official said.
In relevant remarks in October, Brigadier General Gholamreza Jalali had underlined that maintaining the resistance morale is the key to pass successfully through the US' economic terrorism and sanctions.
"The US' so-called maximum pressure is passing its last days, and we can overcome such hawkish pressure if we keep the resistance discourse and do not show weakness," General Jalali said on Monday October 19 addressing a press conference on the occasion of the Civil Defense Week.
"Our country's defensive power has greatly increased, so we no longer face a military threat," he added.
General Jalali reiterated that while entering into the military layer is the Americans' red line when Iran targeted their Ain al-Assad Military Base in Iraq, the Americans did not respond as they saw the possibility of going into a war.
He underlined that the US' strategy now involves threats and pressure.
"Today, Americans are using the dollar, which is a component of power for them, as a tool to put pressure on countries, so we need to reduce the dependence of our economy on the dollar to do less harm in this war," General Jalali said.
He pointed to the enemies' efforts to put the utmost pressure on people to make them stand against the governments, and called on the Iranian government and people to keep up maximum resistance to beat the US' ill-wished plots.