Politics
2021-January-2  13:59
IRGC Commander: Iran to Give Reciprocal, Crushing Response to Any Move by Enemies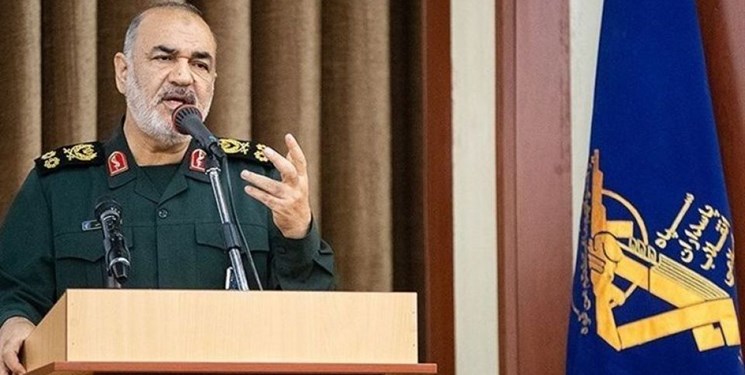 TEHRAN (FNA)- Commander of the Islamic Revolution Guards Corps (IRGC) Major General Hossein Salami warned enemies of Iran's crushing and reciprocal response to any hostile move and threat.
"We have shown both in words and action that we will respond to any action by the enemy against us with a reciprocal, decisive and strong blow, and it has been proven many times that we do not ignore or leave any threat or aggression by enemies unanswered," General Salami said, visiting the military units, systems and equipment on Abu Musa island in the Persian Gulf on Saturday.
"The IRGC Navy, specially in recent years, has achieved extraordinary capabilities and achievements, and what we are witnessing today is part of the IRGC's power and might at sea," he added.
General Salami underlined that the IRGC Navy is in possession of different types of subsurface and surface vessels, smart mines, smart bombs with the capability of being mounted on drones and fighter jets, a new generation of VTOL drones with the ability to conduct operations in different ranges and various types of missiles and missile-launchers.
His comments came after the Pentagon deployed a pair of B-52 bombers to the Persian Gulf in yet another provocative military posture against Iran, just weeks before US President Donald Trump is due to leave office.
The nuclear-capable bombers flew nonstop from Minot Air Force Base in North Dakota and headed home after a show of force over the Western side of the Persian Gulf on Wednesday, the AP reported.
Iranian Foreign Minister Mohammad Javad Zarif also said on Thursday that the responsibility for any possible adventurism in the region falls on the US, ruling out the need for any foreign intervention for regional security.
"Washington would be held accountable for any potential adventurism in the region," Zarif said in a phone contact with his Kuwaiti counterpart, Sheikh Ahmad Nasser Al-Mohammad Al-Sabah, stressing that the regional security should be maintained without any external interference.
Referring to the recent provocative moves of the US in West Asia, he warned that it is Washington which bears responsibility for any possible adventurism in the region.