2021-January-21 10:48
Politics
2021-January-8  13:42
Iran Seriously Concerned over US' Violation of Protesters' Rights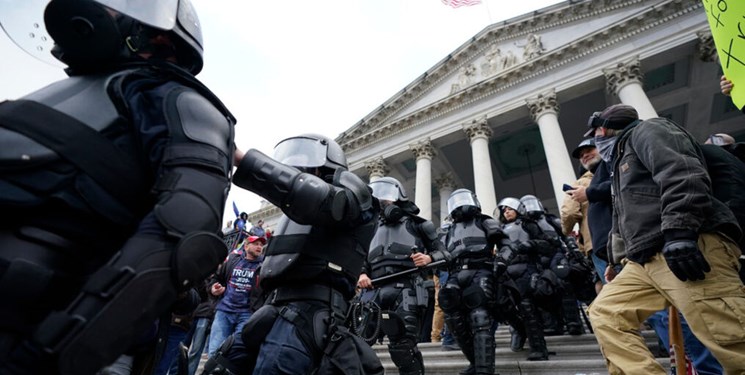 TEHRAN (FNA)- Iran expressed serious concern over the US' violation of rights of those protesters who have recently been arrested for storming the Congress.
Iranian Judiciary's High Council on Human Rights, a few hours after American Police detained scores of angry protesters storming the Capitol Building in Washington, issued a statement voicing serious concern over the detainees' rights violation by the US police.
"Freedom of expression and the right to holding peaceful gatherings is a legitimate right that has to be respected and protected by any party takes power in the White House," the statement said.   
The statement added that fair and impartial observers see the UN Secretary-General and the UN High Commissioner for Human Rights' silence on human rights abuses as a green light for continuation of such abuses and urge them not to sacrifice, anymore, the American people's rights for the interests of those in power in the US.
"The collapse of the US arrogant regime is a reality that cannot be slowed down even by possessing atomic bombs and B-52 fighter jets," the statement stressed.
Late on Wednesday, Trump protesters stormed the US Capitol building, destroying property and seizing the rotunda room, as Congress was trying to certify the results of Democrat Joe Biden's presidential victory.
According to the latest tally, at least four people have died and 52 arrested in the wake of violence in the Congress.
In relevant remarks on Thursday, Iranian President Hassan Rouhani underlined that the recent violence in the US last night demonstrated that the Western democracy is a total failure.
"What we saw in the United States last night showed annihilation of Western democracy in the world," the Iranian president said on Thursday addressing a ceremony of held to inaugurate several national macro projects and innovation factories.
"Everyone saw what a populist did to his country and damaged his country's reputation in the international arena," he added.