2021-January-16 20:58
Politics
2021-January-11  19:04
American Soldiers Still in Shock A Year After Iran's Missile Attack on US Base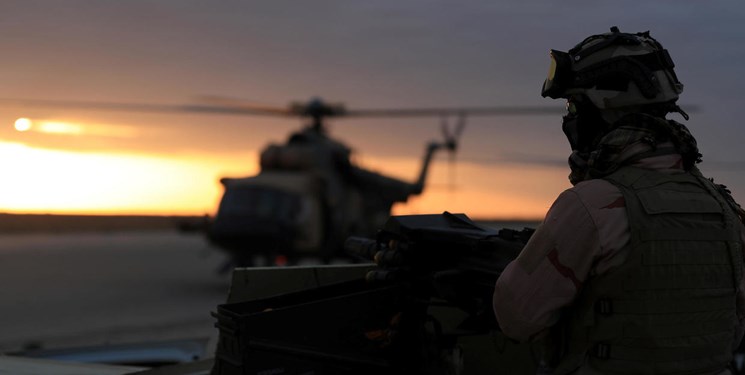 TEHRAN (FNA)- US military men stationed at the Ein Al-Assad in Iraq recalled the misery they went through when the base was targeted with a barrage of missiles by Islamic Revolution Guards Corps (IRGC) last year in retaliation for the assassination of Iranian anti-terror Commander Lieutenant General Qassem Soleimani.
On January 8, 2020, just days after assassination of Gen. Soleimani at the direct order of White House, Ein Al-Assad, which houses US troops in Al-Anbar province in Western Iraq, found itself under fire from volleys of ballistic missiles launched from Iran.
US came to surprise everyone after it declared victory hours after Iran struck the American base. The US leader, who faced the gravest international security crisis of his presidency, and his defense officials had initially claimed no service members were injured or killed in the attack. 
But after days of denial, Pentagon finally confirmed that dozens of American forces have sustained traumatic brain injury in Iran's missile strikes. In late January, then-Defense Secretary Mark Esper stressed that the Pentagon took those types of injuries "very seriously".
Now, a year after the incident, a new report revealed that the American troops, who survived one of the greatest crises of the Donald Trump era, are still coping.
According to The Washington Post, the American soldiers, some of whom were briefly knocked unconscious, scrambled from one bunker to the next as the missiles landed in the base in what became known as the most powerful attack against US troops in decades.
A year later, US service members inside missile-showered base who endured the the IRGC strikes, described the scary attack and their current physical and mental condition.
"I still have anxiety," Maj. Alan Johnson, who struggled to focus after absorbing the monstrous blast waves of several explosions, said.
"I still have recurring nightmares of incoming — just that sound of those things coming in," he added.
The WaPo reported that 110 survivors were ultimately diagnosed with traumatic brain injuries, some requiring long hospitalizations and intensive therapies at the Walter Reed National Military Medical Center outside Washington. The newspaper added 29 service members, including Johnson, were injured seriously enough to receive Purple Hearts.
The attack left some with feelings of anger and helplessness. Survivors are still pondering a night that increasingly seemed overlooked in a year that went on to include the coronavirus pandemic, a fraught national conversation about race and one of the most contentious presidential elections in American history, according to the daily.
"I can't think that anyone has walked away from this without some sort of effects, psychologically or emotionally, because of how traumatic the event was," Lt. Col. Johnathan Jordan, the operations officer for an Air Force unit present that night, said.
The Washington Post wrote almost immediately after the assassination of Gen. Soleimani, US troops across the Middle East started preparing for possible Iranian revenge.
Air Force Tech. Sgt. Samuel Levander, a crew member for a Special Operations aviation squadron temporarily assigned to Ein Al-Assad, stated that civilian employees hired to cook food on base even stopped showing up for work. His unit began assessing how many people they could pack into their aircraft, a CV-22, if a quick escape was needed.
According to the paper, on January 7, the severity of the threat became clear: Iran wasn't planning to attack with rockets, which can kill a couple of people at a time, but with much more powerful missiles launched from miles away across the Iraqi border.
Jordan noted that a day before the attack, he and his Commander, Lt. Col. Staci Coleman, had drawn up a plan. She decided that half of the 160 airmen they oversaw would leave on a C-130 with Jordan leading them, while the other half would stay with Coleman, hunkering down in bunkers.
"We were expecting just total devastation at that point," Jordan recollected.
Johnson decided to record a video message for his son, as he wanted to leave behind some last words, just in case "something bad happened to Dad".
Elsewhere on the base, scores of US Special Operations troops prepared to leave on three CV-22 aircraft, each with 24 seats. Levander's team calculated they could pack in many more, ultimately removing 194 people, according to an award citation first reported by the Air Force Times, but others had to stay.
The airfield was quiet as midnight arrived — "almost like a ghost town", Tech. Sgt. Bryan Moody, part of an Air Force security forces team on duty, stated.
The warning rang out over loudspeakers after 1 am, "Incoming! Incoming! Take cover!". Over the next few minutes, several missiles exploded inside the base.
Staff Sgt. Drew Davenport said, "I didn't even have time to be scared."
"I was just so pumped full of adrenaline. I remember that mushroom cloud and that bright red, orange color vividly. It was one of the wildest things I've ever seen," he recalled.
Among troops in need of help were two soldiers trapped in a guard tower that was on fire. A missile had landed nearby, and they were unable to climb down from their 12-foot-high perch because of the flames. Also, a contractor who suffered a serious eye injury needed help.
Even with the attack over for hours, there was little movement on the base at daybreak. Levander said his crew's CV-22 flew over the base early that morning. Virtually no one had left their bunkers yet, and hangars were still on fire, he added. When he and his colleagues returned to their living area, they found soap dispensers blown off walls, lights hanging askew, and electric generators that had stopped
Johnson stated that soldiers who had survived in bunkers were hesitant to leave them, even after an "all clear" message went out. Some were crying. Some were whimpering. Others were vomiting.
"The fact was, everyone had these symptoms of traumatic brain injury," Johnson stated, noting, "But those symptoms were insignificant compared to what we went through all night."
Johnson himself was diagnosed with a brain injury and spent weeks receiving physical therapy, speech therapy, occupational therapy, ocular motor therapy and psychiatric care in Germany.
Davenport announced he did not suffer any injuries, but stated "It's kind of disheartening sometimes". 
"Some people don't even know it happened," he stressed.
Service members began receiving testing afterward. Patients with the most significant symptoms were evacuated from Iraq. 
US Force Inside Missile-Showered Base: Iran's Attack 'Extremely Scary'https://t.co/OmS6k6gjj1 pic.twitter.com/pNs7odQUbx

— Fars News Agency (@EnglishFars) January 13, 2020
Gen. Soleimani and deputy commander of Iraq's Popular Mobilization Units (PMU) Abu Mahdi al-Muhandis were assassinated along with their companions in a US attack authorized by White House near Baghdad International Airport on January 3, 2020. Both commanders were admired by Muslim nations for eliminating the Washington-sponsored Daesh (ISIL or ISIS) Takfiri terrorist group in the region, particularly in Iraq and Syria.
The assassination has inflamed tensions between Washington and Tehran, and drew a harsh rebuke from Baghdad, prompting the Iraqi Parliament to pass a resolution ordering American forces to leave the country.
After satellite images displayed accuracy of IRGC missile stikes on US base, experts and pundits have been surprised by improvements in Iranian ballistic prowess. 
Supreme Leader of the Islamic Revolution Ayatollah Seyed Ali Khamenei has called the military operation "only a slap across the face" of the United States, stating that "military moves like this are not enough. The Americans' corruption-stirring presence should come to an end".
Tehran reiterates that its strategic objective is expelling the US troops from the region, naming it the true vengeance for the terror attack on its most popular commander.
On the sidelines of the 1st anniversary of the martyrdom of General Soleimani in Tehran last Friday, IRGC Top Commander Major General Hossein Salami said Iran is fully ready to take revenge from the assassins of Gen.Soleimani, stressing that the very thought of revenge has caused a constant nightmare for the Americans.
"We are ready to confront any US move against Iran in the region." Salami stated, adding, "We are prepared to avenge the blood of the martyrs and liberate Muslims forever from the political, economic and cultural hegemony of the US."
"We assure our people that we will take revenge from the perpetrators of the terror attack on Martyr Lieutenant General Soleimani and his companions very harshly," he went on to say.