2021-April-17 19:47
World
2021-January-12  12:47
Facebook Executive Says 'No Plans' to Lift Trump Suspension, 'Risk to Democracy' Was Too Big to Ignore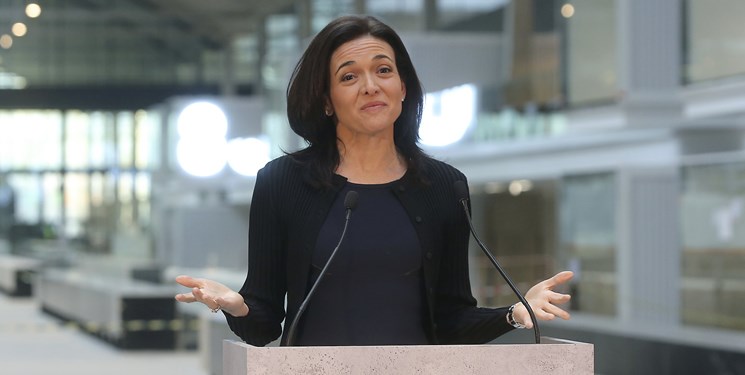 TEHRAN (FNA)- Facebook's Chief Operating Officer Sheryl Sandberg said the company has "no plans" to lift President Trump's ban.
The Facebook executive reflected on the "unprecedented" decision to block the president from the platform during an interview with Reuters Monday, where she revealed that she is glad the step was taken following the Capitol riots.
"In this moment, the risk to our democracy was too big that we felt we had to take the unprecedented step of what is an indefinite ban, and I'm glad we did," she said, citing the company's policies about posts calling for violence.
During the interview, the social media COO also reiterated that Facebook's ban of the president will extend at least through the inauguration of president-elect Joe Biden, but that the company has no plans to allow Trump back on the platform.
"Our ban's indefinite. We have said at least through the transition, but we have no plans to lift it. No plans to lift it right now, but at least through the transition, we've been very clear," Sandberg said, adding, "There's obviously so much happening and this is such a big step, we will definitely let people know and be transparent about any changes to that."
Facebook first announced it had taken the step of suspending the president's account for 24 hours on January 6, the day of the Capitol riots. 
The following day, Facebook's co-founder Mark Zuckerberg said the ban, which also applies to Instagram, had become "indefinite" and extended "for at least the next two weeks until the peaceful transition of power is complete".
"The shocking events of the last 24 hours clearly demonstrate that President Donald Trump intends to use his remaining time in office to undermine the peaceful and lawful transition of power to his elected successor, Joe Biden," Zuckerberg wrote at the time.
"Over the last several years, we have allowed President Trump to use our platform consistent with our own rules, at times removing content or labeling his posts when they violate our policies," Zuckerberg said. 
"We did this because we believe that the public has a right to the broadest possible access to political speech, even controversial speech. But the current context is now fundamentally different, involving use of our platform to incite violent insurrection against a democratically elected government," he said.
Sandberg also discussed whether Facebook has become an "arbiter of online speech", with the social media executive acknowledging that there are "clear concerns about the size and the power of the US tech companies" and that the company itself believes the "internet needs new regulation" as "most of the rules that govern the internet were written 25 years ago".
"That said, in these moments, we are a private company, and we have a service we provide, and it is our responsibility to make sure that service is not used for things that it shouldn't be used for, like what happened last Wednesday," Sandberg said.
"So in this moment, we have an obligation to be transparent, we have long-standing policies, but I think we had an obligation to make sure this didn't happen on our platform, even though certainly that is a big decision for a private company to make," Sandberg added.
In addition to Facebook's ban, the president has also faced bans from social media companies including Twitter, Twitch and Snapchat, while platforms including YouTube, Pinterest, TikTok and Shopify also took measures against the president.