2021-February-28 04:37
Society_Culture
2021-January-13  12:16
Iran: First Group of Volunteers Get Second Home-Made Vaccine Jabs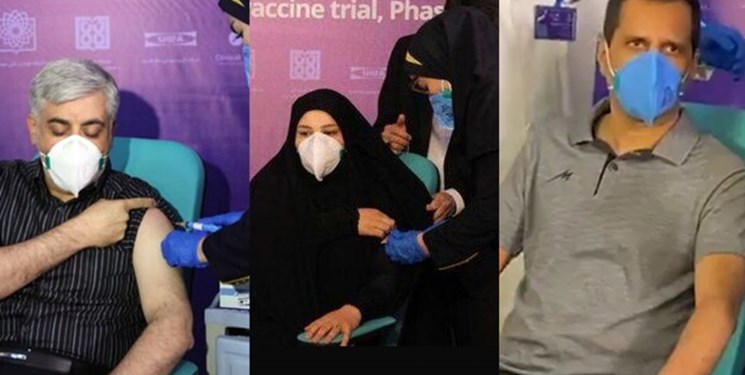 TEHRAN (FNA)- The first three Iranian volunteers received their second dose of domestically produced COVID-19 vaccine on Wednesday.
The second dose of the home-grown COVID-19 vaccine (COVIRAN Barekat) was injected to the first three volunteers who had received their first dose on December 29, 2020.
As the Iranian vaccine COVIRAN Barekat has had no side effects after 14 days, the committee for supervising the vaccine has issued the permit for the second phase of injection.
The Headquarters for Executing the Order of Imam Khomeini (EIKO) is the organization that has developed the vaccine.
The first three test subjects were the daughter of head of the Coronavirus Research Team of EIKO, Tayyebeh Mokhber, and two of the top managers of the organization, Ali Asgari, and Hamid Reza Khalili.
In a relevant development on Sunday, it was announced that Iran started coronavirus vaccination on the second 7-member group of volunteers.
After the successful injection of the domestically developed "COVIRAN Barekat" vaccine to the first group of volunteers and appearance of no side effects, the license was issued for a second group consisting of 7 volunteers.
The vaccination was carried out in the presence of the senior member of the National Task Force for Fighting Coronavirus ِDr. Minoo Mohraz and an official of Tehran Medical Sciences University Dr. Hamed Hosseini.
"After getting the license from the relevant authorities, the vaccination to the third group begins on Tuesday morning," Dr. Hosseini said and added, "Today, three people have been vaccinated and tomorrow 4 volunteers will get the jabs and the first phase will continue till vaccination of 56 people."
Hosseini expressed hope that the approval for the second phase of vaccination will be issued by the end of January.
He went on to say, "I make it clear that this vaccine has been fully safe till this moment and none of the 7 volunteers of the previous two groups has seen any side effects, and that's why the vaccination of the third group has been licensed."
Minno Mohraz, also, said, "After a long time, this is the first time that the production and testing of the Iranian coronavirus vaccine is being carried out with observing all international regulations and parameters that are even stricter than the rules of the World Health Organization."
She, too, assured that the 7 volunteers who have been tested with coronavirus vaccine are being visited every day and no side effects have been seen in them.
"After injection of the vaccine to 56 people, by early March we will enter the second phase of the human trial of the vaccine," Mohraz said, adding, "God willing, in the next spring, the public vaccination of our noble people will start."