2021-May-11 20:56
World
2021-January-14  14:12
Poll: 74% of Americans Expect More Attempted Violence During Week of Inauguration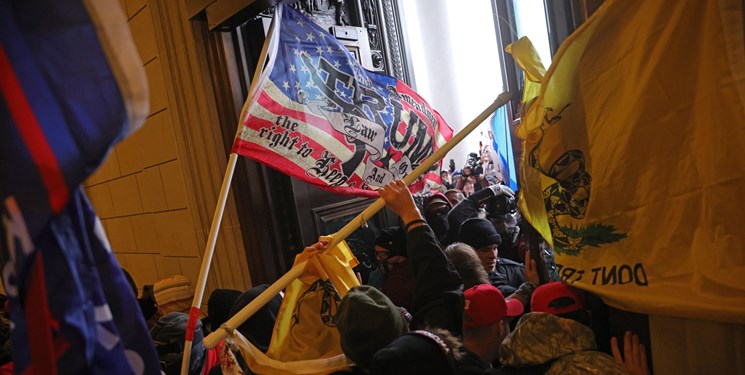 TEHRAN (FNA)- Seventy-four percent of Americans think it's either somewhat or very likely there will be more attempts at violence in Washington, D.C., next week as the city prepares for President-elect Joe Biden's inauguration, according to a CBS News-YouGov poll released Wednesday.
An overwhelming amount of Biden voters, 92 percent, say violence in D.C. is least somewhat likely, along with 49 percent of supporters of President Donald Trump and 72 percent of independents.
The poll comes one week after a pro-Trump mob of rioters stormed the Capitol to disrupt Congress's certification of the Electoral College vote and Biden's election win. The riots resulted in five deaths, including a Capitol Police officer and a woman shot by another plainclothes officer. 
Eighty-seven percent of respondents said they disapprove of last week's violence, though there is disagreement over Trump's role in it. 
In total, 59 percent of respondents believe the president encouraged violence at the Capitol, compared to 31 percent who said he had no impact and 10 percent who said he discouraged the violence. A total of 90 percent of Democrats, 58 percent of independents and 23 percent of Republicans believe Trump urged the violence.
Seventy percent of the respondents said they do not want Trump's supporters to protest during the week of Biden's inauguration, but 65 percent of those who voted for the president back demonstrations next week.
A majority of respondents, at 55 percent, approve of immediately impeaching Trump, which the House voted to do Wednesday afternoon, making him the first US president to be impeached twice.
The results align with a Morning Consult-Politico survey that found 53 percent support Trump's impeachment for inciting violence, and 54 percent say the Senate should convict him. 
The CBS News-YouGov poll surveyed 1,521 US adults on Monday and Tuesday. Its margin of error amounted to plus or minus 2.9 percentage points.
D.C. and federal authorities are planning more security ahead of the inauguration, including the presence of 20,000 National Guardsmen. Guardsmen have put up a 7-foot "non-scalable" fence around the Capitol and other nearby buildings in response to last week's violence.