2021-March-1 16:41
Politics
2021-January-14  14:14
Iran, Pakistan Stress Strengthening Common Front against Extremism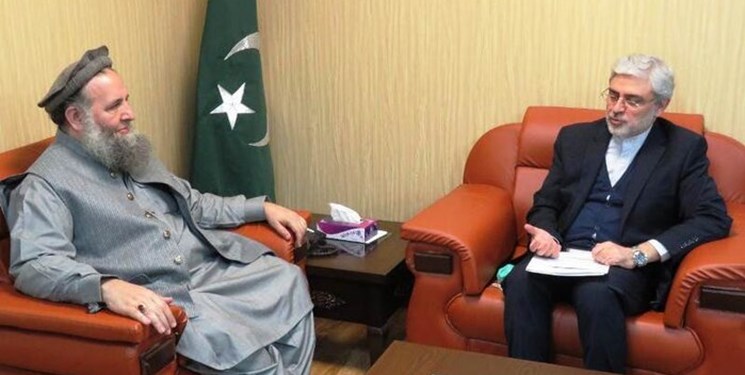 TEHRAN (FNA)- High-ranking Iranian and Pakistani officials in a meeting in Islamabad discussed ways to reinvigorate joint efforts to fight against Islamophobia, Takfiri groups and extremism.
The meeting was held between Pakistan's Minister for Religious Affairs Pir Noor-ul-Haq Qadri and Iranian Ambassador to Islamabad Seyed Mohammad Ali Hosseini on Wednesday.
The two sides discussed a wide range of issues related to Iran-Pakistan bilateral relations, the unity of the Islamic world, strengthening cohesion and unity among Islamic nations against the plans of enemies and the efforts of arrogant powers to create division, cooperation in religious and cultural fields.
The two sides also discussed the strengthening of religious tourism.
Emphasizing the inseparable friendship and love of the people of Pakistan for the people of the Islamic Republic of Iran, Pakistan's Minister of Religious Affairs said there is no need to provide reasons for a strong bond between two brotherly nations because Iran and Pakistan always stand together in any situation.
He mentioned the Islamic Revolution as a promise of new life for Muslim nations saying after the victory of the Islamic Revolution in Iran, the enemies of the two countries tried to spoil the relations between Iran and Pakistan however they failed.
He added Iran and Pakistan have never witnessed a dispute between each other, and if there is a misunderstanding, the two countries, like a brother and a member of a family, have tried to resolve it immediately and constructively.
The meeting was held days after ISIL terrorist group announced last week that it has captivated and beheaded 11 Shiite Muslims in Western Pakistan.
Victims were Hazara Shiites and the incident took place on Sunday morning at a mine located 48 km away from Quetta.
Iran condemned the massacre of 11 miners in Pakistan's Balouchistan province by the ISIL terrorist outfit, stressing the need for regional convergence for fighting the Takfiri terrorist groups.
Iranian Foreign Ministry Spokesman Saeed Kahtibzadeh condemned the massacre of 11 miners in Pakistan's Balochistan province by the ISIL terrorist outfit and said, "This criminal act once again highlights the need for the cooperation of all regional countries in the fight against Takfiri and terrorist groups."
"It is necessary for the Islamic countries to work together to eliminate all the ideological bases and financial support of these Takfiri groups, and to prevent the support of these groups by certain regimes," he added.