2021-March-3 18:38
Politics
2021-January-15  13:43
Envoy Reiterates Iran's Support for Palestinian Resistance Groups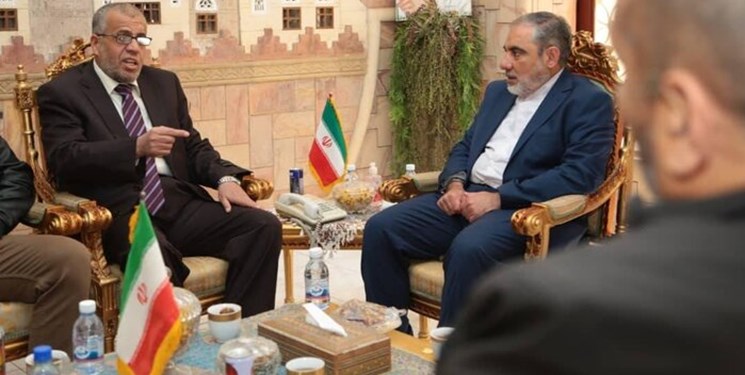 TEHRAN (FNA)- Iranian Envoy to Sana'a Hassan Irlou said that Tehran continues its full support for the Palestinian movement, stressing that any compromise with the usurper Israeli regime should be confronted.
"The Islamic Republic of Iran will continue supporting different Palestinian Resistance groups against the Zionist regime," Irlou made the remarks in his meeting on Thursday with the representatives of Palestinian movement groups residing in Yemen, Ahmed Berkeh (Deputy Head of the Islamic Jihad Movement in Palestine), Umar Ghanam Abu Shomaleh (representative of the Popular Front for the Liberation of Palestine), and Khalid Khalifa of the Democratic Front.
He underlined that the Islamic Ummah would stand against the normalization of ties with Israel by some of the Arab regimes.
"The Zionist Regime that attacks the Palestinian people is now attacking the Yemeni people," the ambassador went on to say.
Representatives of the Palestinian movement groups residing in Yemen, for their part, hailed Iran's role in supporting the Palestinian people in all circumstances and developments.
In relevant remarks on January 7, Hassan Irlou reiterated Tehran's support for the oppressed people of Yemen in their fight against the Saudi-led war.
"Iran will not hesitate to support the Yemeni people by transferring its capabilities in all areas," Irlou said in a meeting with a member of the Yemeni Supreme Political Council, General Sultan Al-Samaei, on Thursday Janurary 7.
He emphasized the need to promote Tehran-Sana'a relations in different fields.
General Al-Samaei, for his part, underlined the deep historical ties that connect the two brotherly nations, saying, "The Yemeni resistance against the savage enemy during the past years embodies the axis of resistance, an axis that the Islamic Republic of Iran and Yemen use as a unique path against the hegemonic powers in the region."