World
2021-January-18  11:18
Report: US-Led Military Convoy Enters Northeastern Syria from Iraq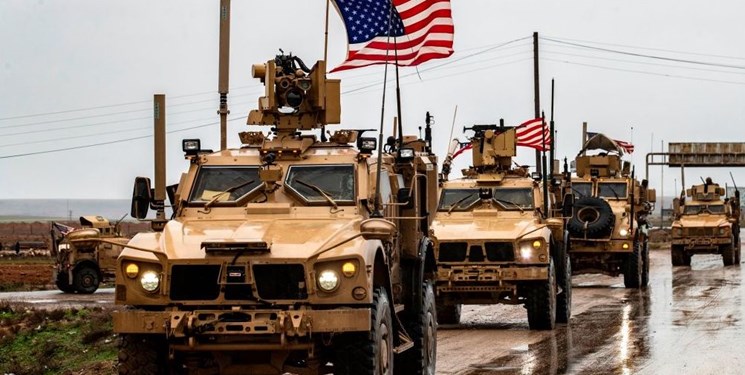 TEHRAN (FNA)- The US-led military coalition purportedly formed to fight the Daesh (also known as ISIL or ISIS) terrorist group reportedly sent a new convoy of trucks carrying military and logistical equipment to Syria's Northeastern province of Hasaka, as Washington is seeking to maintain its grip on energy resources in Syria and loot natural reserves in the war-hit country.
The RT Arabic television news network, citing local sources, reported that a convoy of 35 trucks crossed the Waleed border crossing into Syrian territories from Iraq's Northern semi-autonomous Kurdistan region on Saturday.
The sources added that the vehicles entered the Kurdish-populated city of Qamishli, and were carrying logistics as well as fuel supplies for US military forces in Hasaka and neighboring Deir Ezzur province.
The US military has stationed forces and equipment in Northeastern Syria, with the Pentagon claiming that the troops deployment are aimed at preventing the oilfields in the area from falling into the hands of Daesh terrorists. Damascus, however, says the deployment is meant to plunder the country's resources.  
The US first confirmed its looting of Syrian oil during a Senate hearing exchange between South Carolina Republican Senator Lindsey Graham and US Secretary of State Mike Pompeo in late July last year.
On July 30 and during his testimony to the Senate Foreign Relations Committee, Pompeo confirmed for the first time that an American oil company would begin work in Northeastern Syria, which is controlled by militants from the so-called Syrian Democratic Forces (SDF).
The Syrian government strongly condemned the agreement, saying that the deal was struck to plunder the country's natural resources, including oil and gas, under the sponsorship and support of the administration of US President Donald Trump.
Separately, three Turkish soldiers were killed in Northwest Syria on Sunday as a group of militants attacked their military base.
Lebanon-based Arabic-language al-Mayadeen television news network reported that the development took place in the Northern sector of the beleaguered Idlib province.
On October 9, 2019, Turkey launched a cross-border invasion of Northeastern Syria in an attempt to push Kurdish militants affiliated with the so-called People's Protection Units (YPG) — which Ankara views as a terror outfit — away from its borders.
Two weeks later, Russia and Turkey signed a memorandum of understanding that forced the YPG militants to withdraw from the Turkish-controlled "safe zone" in Northeastern Syria, after which Ankara and Moscow began joint patrols around the area.
Turkey has since wrested control of several areas in Northern Syria in addition to other Kurdish-controlled areas.
Damascus views the Turkish military presence on Syrian soil as an attack on the Arab country's sovereignty.