2021-April-20 08:42
Politics
2021-January-19  12:22
Spokesman: Uranium Metal Necessary to Treat Iranian Patients with Special Needs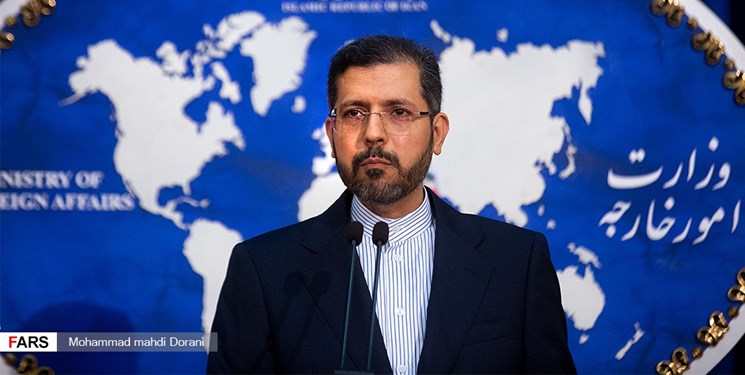 TEHRAN (FNA)- Iranian Foreign Ministry Spokesman Saeed Khatibzadeh said that the country's production of uranium metal is aimed at peaceful uses and providing necessary radiomedicine for patients with special needs.
"As announced by the Atomic Energy Organization of Iran (AEOI), operation of Isfahan Metal Uranium Production Plant under the bill approved by the parliament and the production of advanced fuel (silicide) for use in Tehran research reactor are two completely different issues. What the (International Atomic Energy) Agency has reported is the start of R&D activities to design a more advanced fuel for Tehran research reactor called silicide fuel and Iran had informed the Agency of its plan two years ago, and recently provided it with relevant design plan," Khatibzadeh said on Tuesday in reaction to the three European states' statement about Iran's plans to produce uranium metal.
He explained that in the process of producing silicide fuel, metal uranium is an intermediate product, and said, "The design information questionnaire of Isfahan Metal Uranium Plant has not been submitted to the Agency yet and it will be performed after making the necessary arrangements and within the deadline set by rules and regulations."
Khatibzadeh criticized the "baseless" hues and cries about Iran's decision, and said, "Metal uranium also has peaceful uses, and some countries are now using metal uranium-based fuel for their reactors which does not violate the NPT and the safeguards undertakings."
"At the same time, this technology is a requirement for Iran which should provide its patients with the best quality radiomedicine, and it has a completely humanitarian and peaceful use," he added.
Last week, Iran's Ambassador and Permanent Representative to Vienna-based International Organizations Kazzem Qaribabadi announced that the country has kicked off research and development activities to produce an advanced type of fuel for the Tehran research reactor.
"This activity is carried out in three stages, and in the first stage, metal uranium is produced using natural uranium," Qaribabadi said on Wednesday.
He added that the IAEA director-genera has released a report on Wednesday and informed the member countries about the matter.
"This measure will technically place Iran among the leading countries in the production of new fuels," Qaribabadi said.
He added that all these steps have been notified to the Agency and the IAEA's inspectors have also visited the fuel plate factory three days ago.
In a statement on Saturday, France, Germany and the United Kingdom – the three European signatories of Iran's 2015 nuclear deal with world powers – claimed that Tehran's plans to produce uranium metal has "potentially grave military implications" and the country has "no credible civilian use" for the product.