2021-April-11 03:14
Politics
2021-January-19  13:13
Paratroopers Launch Offensive Operations in Iranian Army Ground Force Drills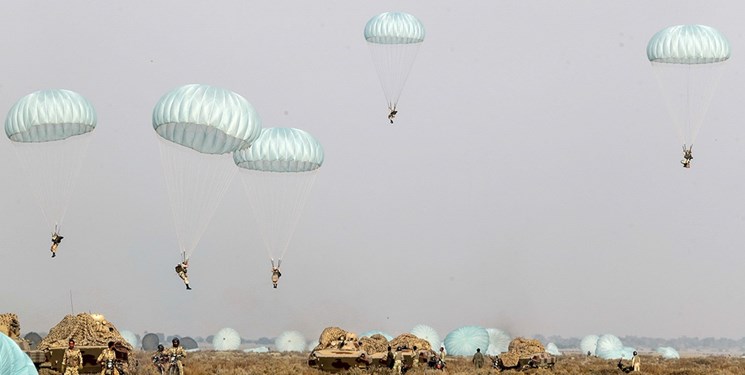 TEHRAN (FNA)- The paratroopers of the Iranian Army Ground Force on Tuesday launched offensive operations during the first phase of Eqtedar (Might) 99 wargames along the country's Makran coasts in the Sea of Oman.
"In the first phase of the drills, the Airborne Brigade 55 of the Army Ground Force performed parachuting operations and launched offensive operations using BMP2 personnel carriers which were performed in combination for the first time during the wargames," Deputy Commander of the Iranian Army Ground Force and Spokesman of the Drills Brigadier General Kiomars Sharafi said.
He added that hundreds of Airborne forces on several C-130 aircraft landed at designated points to operate as paratroopers with airdropped weapons and military equipment, including motorcycles, 107-mm rocket launchers and 23-mm cannons in the general zone of the drills, attacking and capturing targets on the beach.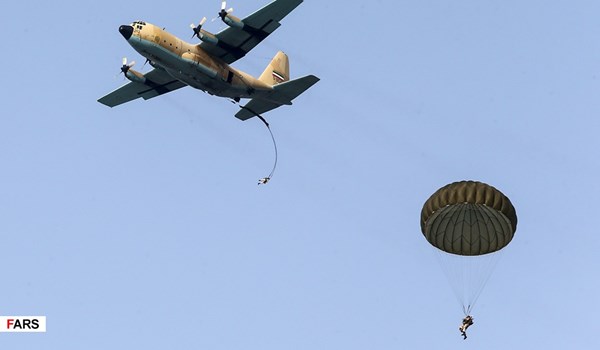 General Sharafi said using upgraded personnel carriers by the Airborne unit, carrying out raid operations by means of a variety of weapons, capturing coastal areas, loading and mounting armored equipment and semi-heavy weapons in the shortest possible time and carrying out operations based on reality-based battle scenes are among the strong points of the Airborne unit and rapid-reaction forces of the Iranian Army Ground Force.
The Iranian Army Ground Force started wargames, codenamed Eqtedar 99, in the country's Southeastern regions on Tuesday morning.
The drills are participated by the airborne units, special forces and rapid reaction brigades, and Army Chief Commander Major General Abdolrahim Mousavi, Army Ground Force Commander Brigadier General Kiumars Heidari and other senior military officials.
According to General Heidari, the offensive wargames will involve rapid reaction units and mobile and offense brigades.
He said the troops attending the drill will be receiving logistical and combat support from the Air Force and the Army Ground Force Airborne Division in the coastal areas.
General Heidari noted that the main purpose of the wargames is to evaluate the mobility and offense power of the rapid reaction brigades and corps and the mobile offense units of the Army Ground Force.