2021-February-28 10:36
Politics
2021-January-23  14:26
DM: US Sanctions against Shipping, Transportation Sectors to Make Iran Stronger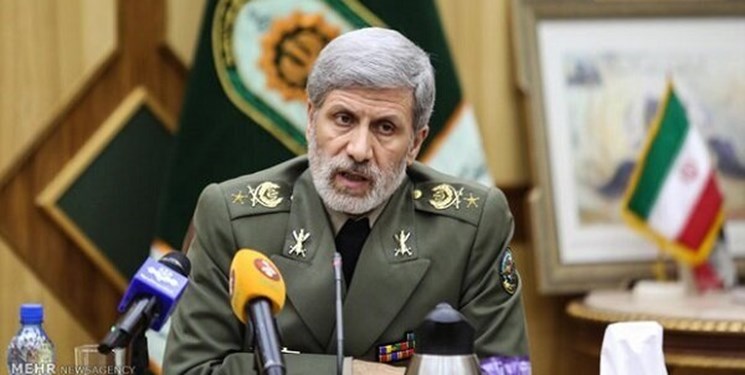 TEHRAN (FNA)- Iranian Defense Minister Brigadier General Amir Hatami said on Saturday that the sanctions imposed by the former US administration against Iran's shipping and transportation will further strengthen the two sectors.
"Anytime that the enemies wanted to impose stricter conditions (against Iran), our industries further moved towards self-sufficiency and flourishing," General Hatami said, while visiting the designing and production units of the modern home-made training jet, Yasin, on Saturday.
Former US Secretary of State Mike Pompeo announced in December sanctions against the Islamic Republic of Iran Shipping Lines, its China-based subsidiary, E-Sail Shipping, and Mahan Air airline, claiming "the companies are aiding Iran's alleged proliferation of weapons of mass destruction".
General Hatami said that the cruel and illogical sanctions against the Iranian Armed Forces and defense industry is nothing new, and added, "The Air Force has been a subject to harsh sanctions for many years, but it has always attained self-sufficiency with vigor and self-confidence, and indeed the aviation industry is a perfect role model for the Armed Forces and the country in countering sanctions."
"Although sanctions have created problems, they made us turn our attention to internal capacities and capabilities, and for this reason, today, despite the will of the enemy, Iran is much stronger and more powerful than the first years of the Islamic Revolution," he added.
In relevant remarks in December, Chief of Staff of Iran's Armed Forces Major General Mohammad Hossein Baqeri said that his country has been able to achieve the state-of-the-art defense technologies despite sanctions and pressures.
General Baqeri made the remarks, addressing the inaugural ceremony of Defense Ministry's Electronic and Telecommunications Production Complex.
He added that telecommunication products produced in Iran's defense industry observe requirements of international defense standards and they are manufactured with the world's modern technologies.
In today's Information Age, the Islamic Republic of Iran has attained the world's high-tech defense achievements in a way that most electronic and telecommunications equipment needed in the country are manufactured by knowledge-based companies and Armed Forces, General Baqeri said.
"These communications and telecommunications products will certainly promote quality of battles, commanding and controlling," he added.