2021-April-21 02:47
Politics
2021-January-29  16:22
Iran's Envoy, Pakistani Minister Review Trade, Maritime Ties
TEHRAN (FNA)- Iranian Ambassador to Islamabad Seyed Mohammad Ali Hosseini conferred with Pakistan's Minister of Maritime Affairs Syed Ali Haider Zaidi on economic cooperation between the two countries, underlining the need to boost bilateral maritime cooperation.
Hosseini and Zaidi stressed the need to develop regional and international cooperation between the two neighboring countries in the field of maritime affairs, noting the promotion of border exchanges via establishing border markets.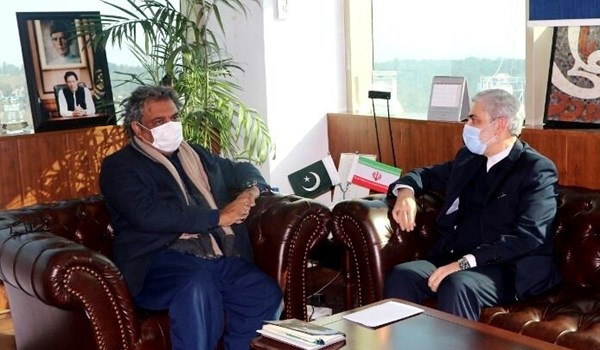 Iran's envoy on a tweet wrote that he had fruitful talks with the Pakistani Minister.
"Improving the livelihood of border residents of the two nations is a common goal of Iran and Pakistan," he said.
Earlier this week, Hosseini and Pakistan's Federal Minister for Communications Murad Saeed had stressed the need to increase cooperation between Iran and Pakistan in transportation and communications sectors.
Hosseini and Saeed underlined the importance of relations between Iran and Pakistan in the fields of transportation and communications.
The two sides discussed the level of bilateral economic cooperation, the state of road transport between the two countries under coronavirus conditions, with an emphasis on health protocols.
They noted that as the traffic in the border areas of the two countries has increased, more facilities should be provided for the traders and drivers.