Politics
2021-February-8  13:33
IRGC Navy Equipped with 340 New Speedboats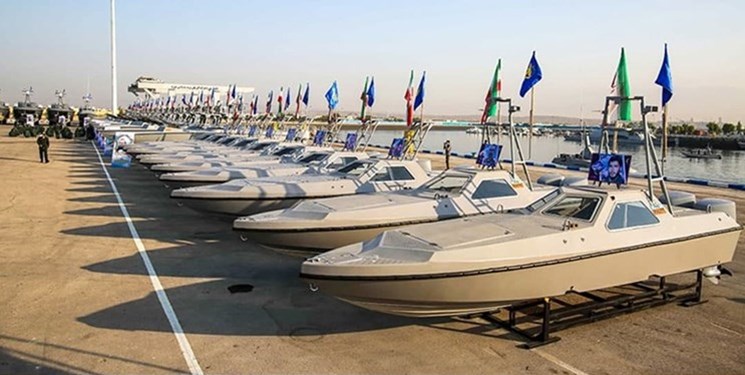 TEHRAN (FNA)- The Islamic Revolution Guards Corps (IRGC) Navy in a ceremony at Bandar Abbas port in Southern Iran on Monday received 340 new speedboats with the capability to fire different missiles and rockets and support diving operations.
The ceremony was attended by Chief of Staff of Iran's Armed Forces Major General Mohammad Baqeri, IRGC Commander Major General Hossein Salami, IRGC Navy Commander Rear Admiral Ali Reza Tangsiri, Governor of Hormozgan province and other government and military officials.
The speedboats which are capable of carrying and firing various missiles and rockets and supporting diving operations joined IRGC Naval Combat Organization in Bandar Abbas.
The light, fast and offensive speedboats which were built in the centers affiliated to the IRGC Navy and in cooperation with the Defense Ministry will be ready for missions and operations in the Persian Gulf, the Sea of Oman and the Caspian Sea.
Rear Admiral Tangsiri had announced in October 2019 that Iran plans to manufacture speed boats in the near future which voyage at the speed of 100 knots per hour.
"Today, marine vessels which cruise at 90nots/h will be unveiled," Rear Admiral Tangsiri said at the time.
"God willing, we will go toward (building) speed vessels with 100knots/h speed," he added.
Tangsiri underlined that the Iranian Armed Forces' preparedness has established security and stability in the Persian Gulf region, adding, "Iran has several times sent messages to the Persian Gulf littoral states that this region belongs to the Persian Gulf littoral states and we are capable of establishing security through sympathy among the neighboring states in the region."
He noted that the foreign forces distort the regional security and are after legalizing their illegitimate deployment in the region and sell their weapons, and meantime, warned of the environmental hazards facing the region due to the presence of foreign military vessels (which use nuclear power).
Former IRGC Navy Commander Rear Admiral Ali Fadavi, who is now the current IRGC deputy commander, had underlined in 2018 that the country's modern speedboats move at a speed of 80 knots (148 kilometers) per hour.
"The Americans have little information about Iran's Naval power and they understand our real power when either their vessels are sunken or entangled in a terrible situation," Rear Admiral Fadavi told FNA at the time.
He added that while the speed-vessels across the world generally cruise at the speed of 35 knots, their Iranian counterparts voyage at the speed of 80 knots.