2021-April-21 19:09
World
2021-February-10  14:05
UK Health Minister Confirms 10 Years in Prison If You Hide Your Trip to 'Red Zone' Country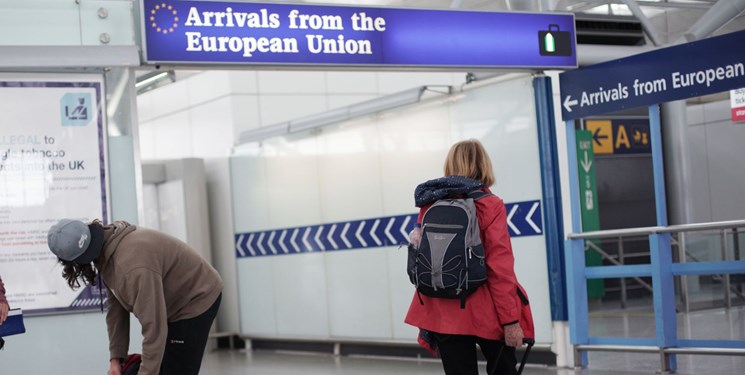 TEHRAN (FNA)- Travelers arriving in England face up to 10 years in jail for hiding the fact that they have come from a coronavirus hotspot, under tough new rules coming into force on Monday.
Under plans set out by Health Secretary Matt Hancock, all international arrivals to England will have to take two COVID tests during their 10-day quarantine period, The Independent reported.
And all UK nationals arriving from 33 "red list" countries will be required to spend their quarantine in a government-designated hotel, where they will be charged £1,750 for their stay. 
Foreign nationals are already banned from travelling direct to the UK from the red-list countries, which are linked to outbreaks of dangerous mutations of COVID-19.
The Scottish government announced it was going further, requiring "managed isolation" for all travellers arriving on international flights from any country.
The move prompted calls for financial help for the aviation sector, as Hancock refused to name a date for the end of mandatory quarantine, telling MPs only, "We want to exit from this into a system of safe international travel as soon as practicable and as soon as is safe."
CBI chief UK policy director Matthew Fell said, "Immediate support is now essential to protect companies and jobs in the aviation sector and its supply chains in the difficult months ahead."
A spokesperson for travel trade organisation Abta stated requiring passengers to pay for multiple tests once leisure travel is restarted would have "serious cost implications" and "hurt demand".
She urged ministers to "develop a roadmap to reopen travel".
The new rules were unveiled as latest figures showed a further 1,052 reported deaths from COVID-19, bringing the UK total to 113,850. Some 12,364 new cases of coronavirus were reported on Tuesday, with the seven-day total down by almost 27 percent compared to the previous week.
The number of people receiving their first vaccination rose by 352,480 to 12,646,486.
Addressing MPs in the House of Commons, Hancock repeated his claim that the UK is "turning a corner" in the battle against the global pandemic. 
But he warned that ministers "must protect this hard-fought progress". Making the UK's borders safe was part of a process that was crucial to "securely" restarting travel again in the future, he added. 
Ministers have already signed contracts with 16 hotels to provide 4,600 rooms for the programme, which will involve "visible security", stated Hancock.
Passengers will have to stay in their hotel room during their quarantine.  
Those who lie on their passenger locator forms in a bid to conceal a visit to a red-list country face up to 10 years in jail. 
Hancock also confirmed a new "enhanced" testing regime for all international travellers.  
Those isolating at home will be required to get a test two and eight days into their 10-day quarantine period, he added. 
The burden for ensuring the rules are not flouted will fall on the travel industry as well as on individuals. 
"Passenger carriers will have a duty in law to make sure that passengers have signed up for these new arrangements before they travel, and will be fined if they don't, and we will be putting in place tough fines for people who don't comply," Hancock continued.
"This includes a £1,000 penalty for any international arrival who fails to take a mandatory test, a £2,000 penalty for any international arrival who fails to take the second mandatory test, as well as automatically extending their quarantine period to 14 days, and a £5,000 fixed penalty notice – rising to £10,000 – for arrivals who fail to quarantine in a designated hotel," he stated.
In another security measure, all tests will have to be booked before passengers are allowed to travel to the UK.
If either of the post-arrival tests is positive, arrivals will be forced to quarantine for another 10 days. All positive tests will also automatically undergo genomic sequencing to confirm whether or not they show a variant of the disease. 
Earlier this week ministers moved to reassure the public that the coronavirus vaccines currently in use in the UK were effective, even against the new variant of the strain from South Africa. 
Teams are carrying out door to door testing in a number of postcodes in England to prevent community transmission of the South African variant. 
A small study has also suggested that the Oxford/AstraZeneca jab does not prevent moderate forms of the South African virus. 
But England's deputy chief medical officer Jonathan Van-Tam predicted that the South African strain would not become dominant in the UK, as he urged the public not to put off receiving a vaccination. 
If necessary ministers could provide a "booster" vaccine this winter to deal with various strains, he suggested. 
Despite the tough measures, the shadow health secretary Jonathan Ashworth told Hancock the public wanted ministers to go further. 
"Our first line of defence is surely to do everything we can to stop [new variants] arising in the first place. That means securing our borders to isolate new variants as they come in. He's announced a detailed package today but he hasn't announced comprehensive quarantine controls at the borders," he said, adding, "So why then when over half of the countries where the South Africa variant has been identified – why are over half of them not on the so-called red list?"
"And indeed according to newspaper reports he wanted to go further with more extensive quarantine arrangements. I want that as well, the British public want that as well, so I will work with him to make that happen so we can strengthen our borders and fix any holes in this nation's defences," he continued.
And some MPs queried why it had taken so long to introduce the system.
Conservative Sir Edward Leigh asked, "Why didn't we do this over a year ago? We are an island, if we'd done what the Australians and New Zealanders had done, perhaps we wouldn't have had to close our schools all this time?"
A document leaked last week indicated that the government expects about 1,425 arrivals a day to require a room.
This would mean the 4,600 rooms could be fully booked after just three days, but Hancock told MPs that "we will secure more as they are needed".
But a government document seen by the PA news agency indicated that hotels will be paid only £50 per night to take part.
Paul Charles, from travel consultancy The PC Agency, commented, "It's no wonder hotels are less than enthusiastic. Their costs will outstrip the income from government."
Rory Boland, editor of consumer magazine Which? Travel, said the policy will be "prohibitively expensive" for many people.
He went on, "Airlines should be made to offer passengers the option of cancelling for a full refund, as well as fee-free rebooking, while these restrictions remain in place."