2021-February-26 08:19
Politics
2021-February-16  13:39
IRGC, Army Welcome Russian Naval Fleet in Iran's Waters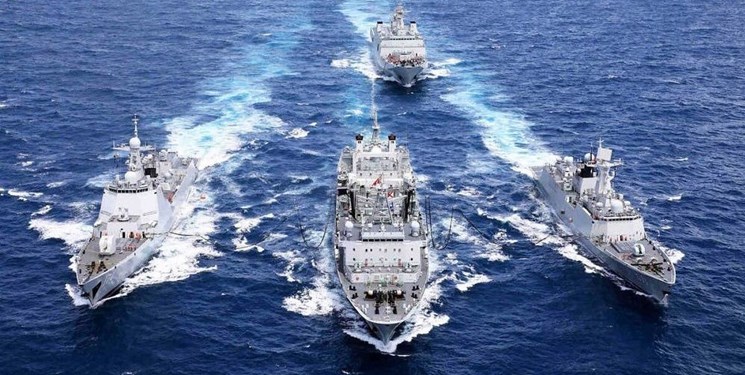 TEHRAN (FNA)- Two submarines of the Islamic Revolution Guards Corps (IRGC) and Iranian Army welcomed a Russian fleet which has arrived in Iranian waters to take part in the joint 'Marine Security Belt' drills in Southeastern Iran.
The IRGC and Army submarines welcomed the Russian naval units consisting of the Stoiky destroyer, a KoLa logistics ship, which have entered Iran's territorial waters to participate in the "Iranian-Russian Marine Security Belt drills".
The senior commanders of the Russian fleet were transferred to the port of Shahid Beheshti in Chabahar to attend a briefing and coordination meeting.
In relevant remarks on Sunday, Deputy Commander of the Iranian Army for Coordination Rear Admiral Habibollah Sayyari announced Tehran and Moscow are to stage joint naval drills in the waters of the Northern Indian Ocean in the near future.
"Iran-Russia joint naval drills indicate the Iranian Armed Forces' naval might and these wargames will be held to establish security in Northern Indian Ocean," Rear Admiral Sayyari said on Sunday.
"When the powerful Russian navy conducts exercises with the navies of the Islamic Republic Army and the Islamic Revolution Guard Corps, it sends a clear message," he added.
"Iran's Navy is at the level of the world naval powers in terms of equipment, manpower, technique and tactics, command and control, communication and access to new equipment," he added.
Referring to the various threats posed by trans-regional countries against Iran since the start of the Islamic Revolution, Rear Admiral Sayyari said, "Our country has been facing many threats since the first days of the victory of the Islamic Revolution, and the enemies have put forward various plans in this regard, all of which have failed."
He said that the reason for failure of the enemies' plans is the power and might of the Islamic Republic of Iran and the deterrence power of the country's Armed Forces, and added, "The Armed Forces of the Islamic Republic of Iran, specially the Army, with regard to its mission of maintaining territorial integrity and independence, has achieved authority and dignity and will definitely respond to enemies' threats."