2021-March-3 21:54
Politics
2021-February-19  16:55
Tehran, Islamabad Opt for Deeper Cultural, Scientific Cooperation
TEHRAN (FNA)- Iran's new Cultural attaché in Pakistan's Lahore Jafar Ronas and Head of the Persian Department of GC University Professor Muhammad Iqbal Shahid underlined the need to deepen scientific, cultural and educational cooperation between the two nations.
Ronas stressed further development of scientific and cultural cooperation between the two friendly and brotherly countries, especially between the institutions of Punjab province and Iran.
He invited Persian language department of GC University to attend the webinar of the cultural consulate on two of the Iranian mystic poets of past centuries Sheikh Abul-Hassan Kharaqani and Sheikh Abu Saeed Abul-Khair.
Ronas added online classes of Persian language from beginner to advanced levels are being held by Iran's cultural mission in Lahore regularly with the support of Saadi Foundation.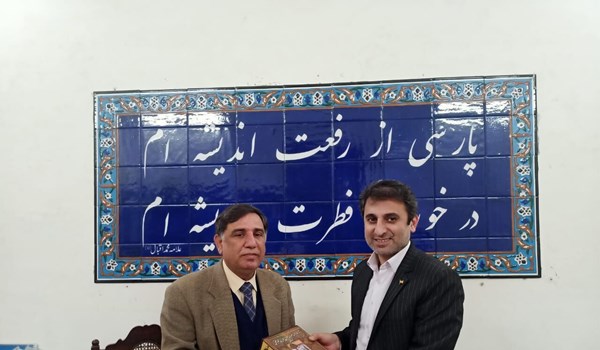 Shahid, for his part, briefed him on GC University as one of the oldest and most prestigious universities in Lahore.
In relevant remarks in November 2018, Pakistan's Federal Minister for Information and Broadcasting Chaudhry Fawad Hussain called for deepening of mutual cooperation with Iran in different fields.
"Islamabad is determined to expand relation with Tehran in various areas, including cultural and artistic domains," Fawad Hussain said in a meeting with former Iranian Ambassador to Islamabad Mehdi Honardoust on November 13, 2020.
"Cultural exchanges are not only vital for understanding each other's values and traditions but also instrumental to promoting people-to-people contacts," Fawad Hussain added.
Honardoust, for his part, appreciating the Minister's interest in reinforcing cultural relations, and said, "Iran has a vibrant film industry and we can produce joint productions in the field of drama."
He also underlined the need to enhance formal collaboration between media entities of both the countries.