2021-May-18 18:57
Politics
2021-February-24  12:30
Iran, Bolivia Stress Expanding Mutual Cooperation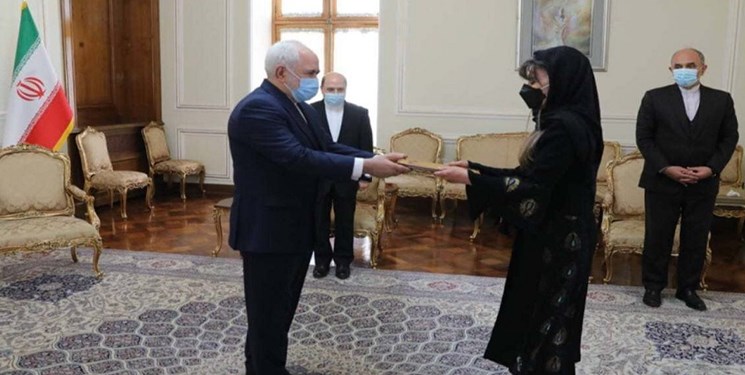 TEHRAN (FNA)- Iranian Foreign Minister Mohammad Javad Zarif and new Bolivian Ambassador to Iran Romina Pérez Ramos in a meeting in Tehran underlined the need to develop relations in different fields.
During the meeting in Iranian capital on Tuesday, the new Bolivian ambassador submitted a copy of her credentials to Zarif.
During the meeting, the Iranian foreign minister and the new Bolivian Ambassador to Tehran stressed the importance of promoting bilateral political and economic relations.
The two sides pointed out the two countries' common positions in international forums and organizations, and said that the senior Iranian and Bolivian officials are determined to expand relations.
In a relevant development on December 2020, Iranian Ambassador to La Paz Morteza Tafreshi said that his country "is ready to further broaden relations and cooperation with Bolivia".
In a meeting with Minister of Productive Development of Bolivia Néstor Huanca, Tafreshi voiced Iran's readiness to expand cooperation with Bolivia in the field of production.
Huanca, for his part, welcomed the cooperation between the two countries, and stated that his country is determined to use the technology of Iranian companies especially in the field of food production.
Bilateral relations between Tehran and La Paz are expected to expand after new Bolivian President Luis Arce took office in November 2020.
Arce said in November that his country would increase efforts to implement joint projects with Iran.
During his meeting with Iran's ambassador to La Paz, Arce underlined restoration of relations between Iran and Bolivia, and said his country has always welcomed Iranians.
He also received credential of Iran's ambassador to La Paz.
Bolivia is after reestablishment of diplomatic relations which had been damaged during the previous government, the new president noted.
Bolivia continues strengthening of joint projects with Iran, Arce added.