2021-April-12 17:29
Politics
2021-February-26  15:05
Iran's Parliament Keen on Further Cooperation with African Countries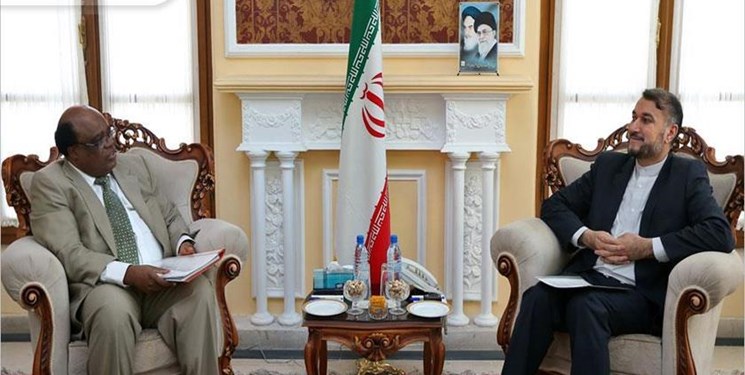 TEHRAN (FNA)- Iranian Parliament Speaker's Special Aide for International Affairs Hossein Amir-Abdollahian said the country's parliament is determined to bolster cooperation with the African continent.
"Iranian parliament underlines the reinforcement of cooperation with the important African continent," Amir-Abdollahian said in his meeting with the newly-appointed Zimbabwean Ambassador to Tehran Christopher Mapanga on Thursday.
"The unilateral and anti-human rights sanctions by the US and some European countries have become a terrorist tool against nations including Republic of Zimbabwe," he noted, adding, "Effective consultations between Iran and Zimbabwe can be an important step in moving towards defusing sanctions."
The diplomat blasted the hegemonic regimes' policies to keep Africa in poverty, exploit and steal rich resources of African continent, and stressed readiness of Iranian parliament's specialized commissions, including in the fields of economy, healthcare and treatment as well as dialogue between parliamentary friendship groups.
He then expressed his sympathy with Zimbabwe for victims of COVID-19, including the Zimbabwean foreign minister, and reiterated that Iran is ready to share experiences with the African nation to help it in the fight against the deadly virus.
Zimbabwean envoy to Tehran, for his part, pointed to Iran's spectacular breakthroughs in the fields of science, technology, defense and sustainable development, saying, "Bolstering bilateral parliamentary ties is of paramount importance for Zimbabwe."
"The Embassy of Republic of Zimbabwe in Iran will spare no effort to strengthen relations with the Islamic Republic of Iran, and further expansion of interactions between the two countries is on the agenda," he added.
Back in February 2019, former Iranian Foreign Ministry Spokesman Bahram Qassemi offered sympathy to the Zimbabwean people and government after a mining incident claimed the lives of scores of people in the African country.