2021-April-11 04:44
Politics
2021-March-1  14:15
Enemy Defeated by Armed Forces' Self-Reliance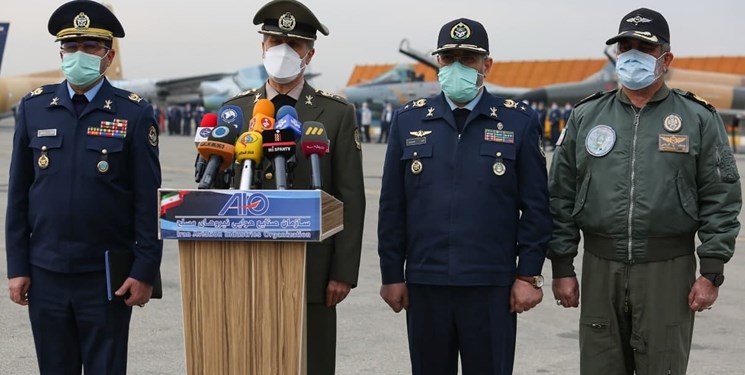 TEHRAN (FNA)- Iran's Armed Forces have defeated the enemy by relying on domestic power, optimizing defense equipment and indigenizing weapons, Defense Minister Brigadier General Amir Hatami said on Monday.
"The Islamic Republic succeeded to defeat the enemy with three strategies, namely, relying on domestic power, optimizing defense and security equipment with the current conditions, and producing domestic weapons in various fields of land, maritime, missile, and cyber warfare," Hatami said on Monday on the sidelines of delivering a number of overhauled helicopters and military equipment to the Army Air Force.
"The enemy tried to defeat Iran with two strategies of sanctions and preventing the purchase of equipment," the Iranian Minister noted.
He further said that Iran's Armed Forces, even under harsh pressures, stood on their own feet and became self-reliant in all defense areas.
"Overhaul of light, semi-heavy, and heavy military equipment by domestic experts is a low-cost and safe way to upgrade the Armed Forces' defense capabilities," Hatami explained.
On Monday morning, Iran's defense ministry delivered a number of aircraft, helicopters and jet engines to the Islamic Republic of Iran Air Force (IRIAF) as part of the plan to bolster the force's combat power.
The IRIAF received 10 helicopters, nine military aircraft and scores of jet engines on Monday, in a ceremony attended by Defense Minister Brigadier General Amir Hatami, Air Force Commander Brigadier General Aziz Nasirzadeh and Army Airborne Commander Brigadier General Yousef Qorbani.
The delivered equipment has been overhauled by the experts at defense ministry.
General Nasirzadeh described the IRIAF as a dynamic, innovative, and self-sufficient sector, which is completely reliable for operational purposes.
"The delivery of several planes and helicopters to the force indicates the creativity of our experts with which we have optimized and upgraded our equipment," he added.
"We will defend our country's borders in all conditions in the best way," General Nasirzadeh stressed.