2021-May-18 19:14
Politics
2021-March-3  13:28
UN Chief Welcomes Iran's Efforts to Establish Ceasefire in Yemen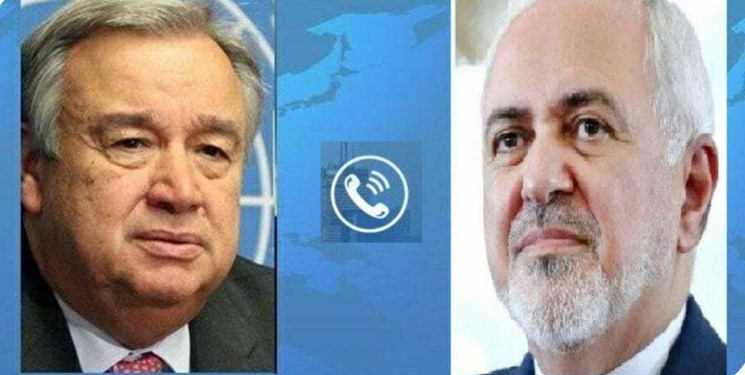 TEHRAN (FNA)- UN Secretary-General Antonio Guterres in a phone conversation with Iranian Foreign Minister Mohammad Javad Zarif welcomed Tehran's efforts to establish ceasefire and start of political talks in Yemen.
During the phone talk on Tuesday night, Zarif and Guterres underlined the necessity for security and opening of Yemeni borders and ports to send humanitarian aid to the Yemeni people, specially in conditions of coronavirus epidemic in the war-torn country.
During the conversation, Guterres thanked Iran on the initiatives the country has taken to help launch peace in Yemen.
The two high-ranking officials had also in April 2020 discussed regional issues, specially the crisis in war-ravaged Yemen.
During a phone conversation with Zarif, the UN chief elaborated on the measures taken by the UN to hold the Yemeni ceasefire.
Guterres renewed his call for a global ceasefire, urging all parties involved to lay down arms and let war-torn nations combat the coronavirus.
Zarif, for his part, expressed Iran's support for the Persian Gulf states' issues through negotiations, stressing that, "Yemen's crisis does not have a military solution."
He added that a consistent ceasefire can be a good start for the political resolution of the ongoing situation in the country.