2021-May-11 22:00
Politics
2021-March-4  12:21
Deputy Minister Underlines Iran-Iraq Good Cooperation in Fight against Terrorism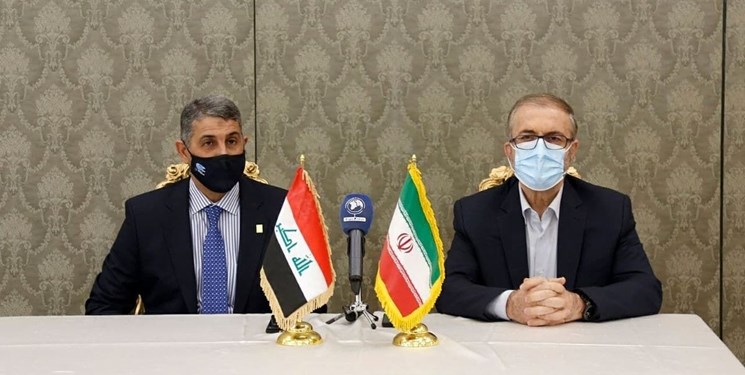 TEHRAN (FNA)- Iranian Deputy Interior Minister Hossein Zolfaqari stressed that Tehran and Baghdad have good cooperation in fighting terrorism even after defeating terrorist groups in the region.
Zolfaqari made the remarks in a joint press conference with High Counselor of Iraqi Interior Ministry Abdulhalim Fahim al-Farhoud on Wednesday.
He said that Iran hosted an Iraqi delegation this week with high level meetings on promoting cooperation and information exchange on issues concerning security, border cooperation, fighting terrorism, organized crimes, fighting drug trafficking and facilitating civil travels between countries.
Zolfaqari also said that an agreement was drafted to be signed in a future meeting between interior ministers of Iran and Iraq.
He highlighted very good cooperation between officials from the two countries on different areas, including Arbaeen ritual which is widely commemorated by millions of Iranians traveling to Iraq during the occasion.
Although terrorism has been defeated, Iran and Iraq have still close cooperation to fight terrorism in various fields, including intelligence, education, border control, and experience exchange, Zolfaqari said.
Fahim al-Farhoud, for his part, said that he and his companions had several meetings with Iranian counterparts and good conversation on security and issues related to citizens went on in the meetings.
He also said that the Iraqi delegation visited some defense companies in Iran to get familiar with Iranian defense products and Iraq would use the products to meet its
Earlier this week, Commander of the Border Guards of the Islamic Republic of Iran Police Brigadier-General Ahmad Ali Goudarzi and his Iraqi counterpart General Hamid Abdullah Ibrahim stressed the need to expand border cooperation between the two neighbors.
Goudarzi and Ibrahim discussed the ways to strengthen and deepen border cooperation in a bid to boost border security and remove problems originated in border areas.
"The Islamic Republic of Iran has 15 neighboring countries and has the most common borders with its neighbors in the world after Russia and China, which are controlled and managed in the spirit of friendship between the regional countries," the Iranian official said.
"We hope that in this meeting we will transfer experiences to improve the border situation," he added.
Goudarzi noted, "Since the beginning of the Iranian year [March 20, 2020], about 130 tons of various drugs have been seized on the borders of the Islamic Republic of Iran."
"Iran has a 1609-kilometer border with Iraq, and this vast common border is well controlled and managed by the favorable relations and interaction between the border guards of the two countries," he said, stressing that Iran will strongly fight against the elements affiliated to the Global Arrogance, and also Takfiri and terrorist mercenaries on the borders.
"We expect Iraq to cover the border gaps and actively combat the smuggling of weapons, ammunition and anti-cultural items," Goudarzi stated.
Hamid Abdullah Ibrahim, for his part, stressed the need to transfer experiences and information between the two countries' border guards, saying, "Equipping and blocking Iraq's borders is on the agenda so that we can use these components and transfer experiences to fight terrorism, insurgent groups, smuggling weapons and ammunition, and anti-cultural items."